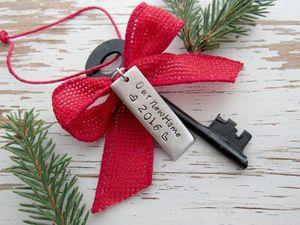 Buying a home is a momentous time in one's life. Buying your first home is right up there among graduating, getting married and having a child in terms of important milestones in one's life. This occasion is one definitely worth celebrating and if you know someone who has recently bought their first home or is in the process of it, you might want to think about one of these creative and thoughtful gifts for the new homeowner.
A great way to remember this occasion is to make a homemade ornament of the first key. This gift is the perfect one to give a spouse or a child and is very inexpensive. This is an especially great idea if they've trusted you with their key, as someone to help watch over their home.
New homeowners usually don't start off their lives in their new homes with a ton of cash. They just spent it on the down payment, closing and moving costs. If they recently got married or were renters, they may have some of the things they need for in the house, but probably don't have what they need to take care of their yard. A gift basket made from a hose with gardening tools in it is seriously a genius and practical idea for a gift.
Gift basket of practical items
Similarly, the new homeowners might not have items that they'll need irregularly (but will need), including.
Flashlights

Batteries

WD-40

Light bulbs

Hammer and nails

Paint brush

Extension cord
Emergency preparedness kit
While not the sexiest of gifts, the new homeowners will thank you in the case of an emergency. You could buy a pre-made from the Red Cross or buy the items yourself as you see fit.
New address items
Labels, stationary or even a stamp with the address is a practical and welcome gift for new homeowners. They can use it for paying bills, sending thank you cards or just any basic mailing tasks that they choose.
Unpacking survival kit
If the new homeowners haven't yet moved in, an unpacking survival kit of the items that they will undoubtedly need, but forget would be perfect. This could include duct tape, hammer, box cutter, scissors, band-aids, gift cards and snacks.
Safety device
If you've already seen the home, you might know what safety devices it already comprises, but if their smoke or carbon monoxide detectors look a little worse for wear, buy them some new ones. It's an added expense that they surely don't need, but will give everyone some peace of mind. Other ideas could include a fire extinguisher or even a ladder.
If you are the person who everyone goes to because of your stellar organizational skills, help the new homeowner keep organized from the start. A new home binder will allow the homeowners to keep all of the paperwork for the home in one spot and it is kind of a fun project!
Plants
While this may seem like a bit of a boring idea, every new home needs plants. Not only will the homeowner think of you every time they water it or pass by it, it will bring some clean air and colour to their home.
Guide to the neighbourhood kit
If the new homeowners are moving to a new town, like Collingwood, a guide to the neighbourhood kit will help them out immensely in their first few months in a new place. Even if you don't live there as well, you could do your research to find out the best restaurants, best spots for coffee or to grab a drink, best grocery stores (or even just where they are!), where the gyms are, and other sorts of information that any person new to a city would like to know. You could include takeout menus, coupons and even a map of all the city's trails and parks.