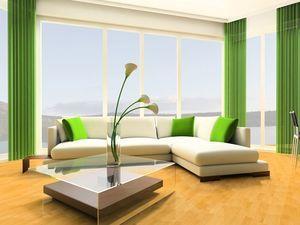 The new year is here, whether you like it or not and it also means that there are new trends to follow. When it comes to home design, many people want to know what''s in and what's out so they can update their homes accordingly. Here are the 2017 design trends.
Green
Green is everywhere right now — on the runways and in stores. Evoking a natural feeling of outdoors, green is the colour you want to bring in this year. You can do this in a number of ways, but if paint is the way you want to go, check out Pantone's colour of the year: Greenery. Symbolic of new beginnings, the colour is said to signal you to take a deep breath and reinvigorate. Plants are also a fantastic way to bring green into your life, and again, they are a vital way to help you breathe (as they clean the air!). With houseplants making a comeback in the last few years, more and more people are looking to them for their meditative effects. Forest bathing is also going to be a huge trend in 2017, although not necessarily in your home. Luckily, there are a number of great trails and forests in Collingwood so you can get your fix.
Escapism
With our lives being as stressful as can be in 2017, we are looking not just to green our lives, but to escape within our homes, even if for just a few minutes. Providing that escape are areas in our home that offer tranquility, whether it is a small reading nook, a comfortable and oversized piece of furniture adorned with pillows and blankets or just in embracing the Hygge movement.
Jewel Tones and Velvet
While simplicity has its place in our Collingwood homes in 2017, jewel tones and other sparkly surfaces are making their way into our homes as well. Thinking about luxury, an emerald green velvet couch is definitely a hot buy this year. Not just with furniture, velvet is coming back in a big way for pillows, curtains and even artwork. Adorn your home with sapphire blue and other precious jewel tones and you'll be right on trend.
Built-in bars
With another comeback for 2017, people are again embracing the concept of built-in bars in their Collingwood homes. People want a spot to kick back, entertain friends and be comfortable doing it. Rather than sticking the built-in bar down in the basement, homeowners are now making it a focal point of the home, with gorgeous built-in shelving, a small seating are and beautiful bottles.
If you need help getting your Collingwood home ready for sale in 2017 and want to know how to get it up to date, call Christine at (705) 888-0201