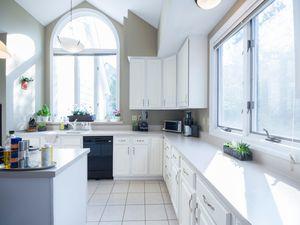 If you want to make a few upgrades to your Collingwood home prior to placing it on the real estate market, there are certain projects that are going to capture the attention of potential buyers more than others. There are several features that many homebuyers are looking for and that will help your home stand above the competition. Let's talk about just four features your home needs if you want it to sell quickly.
1. A Well-Designed Laundry Room
Many buyers want a dedicated space to do their laundry. They don't want to travel to a dark basement to access the washing machine or head out to the garage. Many homebuyers are looking for a main-level room with shelves and storage options. To truly impress, you may want to include small cubbies to store folded clothing or built-in tables to make the chore a little easier.
2. Hardwood Floors
Hardwood floors are extremely popular among homebuyers. This is because this flooring option features a timeless and classic design. It goes with most home décor items and styles, is easy to maintain, and is extremely durable. It can also be placed all throughout the home without taking away the comfort and beauty of the space.
3. Dedicated Outdoor Space
The interior of the home isn't the only thing you need to worry about if you are selling your house. Many buyers are looking for a dedicated outdoor living space as well. This could be something as simple as a cement patio or a wooden deck. However, this feature needs to provide a dedicated gathering place. To truly make it impress buyers, add pops of colour to the space with freshly-planted flowers and ornamental grasses.
4. Lots of Storage
Whether your home boasts large spacious closets or your kitchen is filled with floor-to-ceiling cabinets, having a space to store all of your belongings is going to make an immediate impression on potential buyers. As these buyers walk through your home, they are going to be looking for areas where they can store their own personal items. If you have ample storage options, it helps potential buyers fall in love with the space.
No matter if you are on the hunt for your perfect home or you want to place your current one on the market, contact Collingwood real estate agent Christine Smith today. She can help you through every step and ensure your experience is a smooth and happy one.