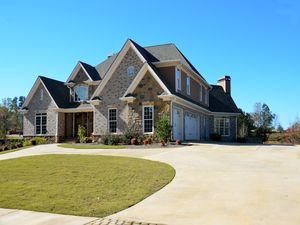 The exterior of a home is the first impression. We all know you never get a second chance to make a first impression. It is almost always the first photo shown when you list your home. And it is the first thing potential homeowners get the opportunity to see. You don't have to go overboard. And you definitely do not have to spend thousands of dollars on landscaping. But you do want to make that first impression a memorable one. Here are 5 tips for a budget-friendly curb appeal boost.
Paint Your Front Door
How many times have you taken note of a great door colour? For under $100 you can repaint your front door and completely change the look of the whole exterior of your home. To stay on trend, research top colours this year and see what matches with the rest of the house. Make sure you pick an appropriate outdoor paint that will weather the Collingwood winters.
2. Update the Outdoor Light Fixtures
For less than $50, you can instantly modernize your outdoor spaces. You may not notice lighting fixtures at first, but updating them will make a huge difference. It is the small things that count. And if you are trying to appeal to first time home buyers or a young family, you are going to want to replace that rickety old fixture.
3. Add Planters
A bare front porch can make a home look cold and uninviting. But if you have two strategically placed, seasonally appropriate planters; that says "welcome home". You can even choose to go the fake route. It doesn't have to be real flowers and foliage. A little greenery goes a long way. You want to find planter boxes that contrast with your exterior house colours so that they stand out.
4. Stylish House Numbers
Along the same school of thought with replacing the light fixtures, new numbers can help to update a house's outside appearance. Nowadays, you can find a variety of styles online that will only set you back a few dollars. And much like everything else in our lives, Amazon has a great selection. You want to match the style of your home and the fixtures you picked out. Don't go too crazy on the size, but you'll also want those potential buyers to be able to find you.
5. Fix Up That Flower Bed
Fixing up your flower bed can get expensive, but there are ways to keep within budget. Opt for more greenery than flowers. You can find a large selection of perennials at your local garden centre that won't cost you an arm and a leg. One bag of soil to cover the top layer should do the trick. Try to find a colour that contrasts with the exterior of your home. If you are really pressed for time and money, you can even fake it in the garden. Remember you are going for a great first impression here. Fake greenery will do the trick in a pinch.
If you need more information on boosting your homes curb appeal or the real estate market in Collingwood, contact Christine Smith. She can answer all your questions.