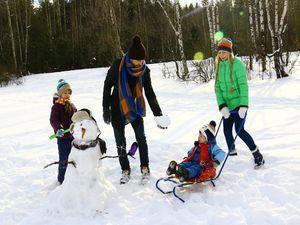 We all know that this is no shortage of things to do in Collingwood during the winter. The first sign that spring is coming is March Break! Let's take a look at some activities for you and the family to enjoy.
Blue Mountain
One of the biggest draws to the area in Blue Mountain. If you aren't interested in skiing or snowboarding, the village still has a lot to offer. The resort is hosting a wide variety of March Break activities from guided snowshoe tours to a Village scavenger hunt.
Scenic Caves Nature Tour
Part of the fun of March Break is getting out to enjoy some fresh air! Scenic Caves is the perfect place to do it. You can cross country ski or take the kids to the Adventure Play Park. You might even spot some wildlife while you are there.
Collingwood Library
There is always a wide variety of activities to attend at the Collingwood Library. However, during March Break week the library has some added educational & fun events. There is going to be a duct tape challenge, an I Spy challenge, a paper airplane competition, and so much more.
The Collingwood Museum
The museum is going the extra mile this year to make March Break all about the kids. From a very appropriately named Ice Age exhibit to Collingwood's very own castle, the Collingwood museum should be on your list for March Break.
Local Day Camps for Kids
Highlands Nordic Day Camps
Located just outside of Collingwood near Duntroon, Highlands Nordic has a very active March Break Calendar. Every weekday they are running a Day Camp that consists of building a snow fort, learning winter survival skills, making maple syrup and, of course, skiing. It might be a good place to look if you want to keep the kids having fun and learning for a full day!
Theatre Collingwood
If you and your family are the creative types, Collingwood Theatre is running a great Drama Camp for March Break this year for ages 7-11. Instructor Drew Murdoch aims to help campers gain confidence in themselves and discover their unique abilities while learning about Shakespeare.
Camp Cranberry
At Camp Cranberry, campers can expect daily art projects, science experiments, and a wide variety of sports. Located at Living Water Resorts (formerly Cranberry Resort), the day camp is for kids ages 4-12 and promises to provide fun-filled days!
One of the reasons we live here is all the four season activities Collingwood, ON offers. March Break is the perfect time to reconnect with family and friends. If you would like more information about things to do in Collingwood or have any questions about the Collingwood real estate market contact Christine Smith, she can answer all your questions.