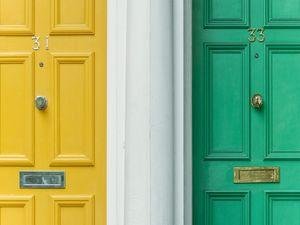 When you purchase a new home, you have more than just a new house to live in. You also have a new community to become familiar with and new neighbours to meet. Meeting your neighbours and getting to know one another has many benefits and should be on your moving-in to-do list.
Here are just five simple things you can do to make friends with your new neighbours.
1. Knock on Their Door
Don't expect your neighbours to come to your new house with jello and casseroles. Rather, you should take the time to go over to their house and introduce yourself. Keep the visit short, but make sure to learn their names. It also doesn't hurt to throw in a compliment about their yard or home as well.
2. Have a Block Party
Shortly after you are all moved in and settled, invite all of your close neighbours to a block party. You could do something simple like a BBQ or a dessert potluck. Simply having them in your home gives you an opportunity to have a conversation with them. You can ask questions and learn more about the community.
3. Talk to Your Neighbours When They are Outside
When you notice your neighbours are outdoors, go over and say hello. You don't need to plan for a long visit, but a short visit just to check-in and to learn how they are doing is a great way to make friends. It helps your neighbours know you are interested in them and their life.
4. Just Be Friendly
One of the best ways to make friends with your neighbours is to just be friendly. When you pass them as you drive down the street, wave. When you see them in the grocery store, say hi. Also, when you are outdoors, try not to yell and cause a lot of commotion. Do not host loud, late-night parties. Be respectful of your neighbours and you will find it is much easier to be their friend. There's nothing worse than petty neighbourhood disputes.
5. Take Care of Your Yard
You may not realize it, but how you take care of your property greatly impacts your relationships with your neighbours. Your neighbours don't want to look at an eyesore out their window all day. Do all you can to maintain your home's curb appeal and keep it well maintained. This will not only improve your relationships in the community, but it will also increase your home's value as well.
If you have any questions about purchasing a home in Collingwood, the current real estate market, or the buying or selling process, contact Collingwood realtor Christine Smith today.