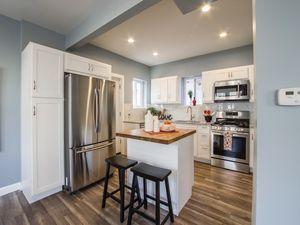 Unless you have no television or internet, you have heard of Marie Kondo. She is the Japanese organization phenomenon that has everyone asking themselves, "Does this item spark joy in my life?" The result has been a mass of happy-go-lucky homeowners that seem to be relishing in their newfound meticulously organized home. With spring on the way here in Collingwood, let's look at 5 ways to organize your kitchen Marie Kondo-style.
Categorize Your Clutter
The whole basis for Marie's organizational style is categorizing your items. That's why it would be best to start there. You can split your kitchen into 3 categories: items for eating, tools for cooking, and appliances.
The first step is going to require you to take everything – and I mean every single thing – out of your cupboards and drawers. Go through the items and if you look at it. If it does not spark joy in your life, toss it.
Well, don't actually toss it. Maybe consider collecting a bin for the local thrift store or Salvation Army. Giving to the less fortunate can be something that can add a spark of joy to this process.
Clean and Bare Countertops
Inadvertently, our countertops can become a catch-all. We start with a little area for mail and keys. Don't forget the bowl of fruit and tomatoes and that nook for the munchies. As you start to put items back into your cupboards and drawers, make space for your counter stuff as well. This will help you cut back on the all hours munching and give your kitchen the confidence boost it needs. A bare countertop gives the appearance of a bigger kitchen.
The Great Refrigerator Clean Out
This is one of the more dreaded household chores. But it really needs to be done to keep that fridge fresh and smell-free. The big thing you want to remember is that you want to stack everything in the fridge vertically, even the carrots. Vertical items allow you to do a quick inventory of everything in the fridge when you open the door. It is also very visually appealing.
Cut Back on Dishes
Studies show that we tend to eat on larger plates and drink out of larger glasses. Keeping that in mind when you go through your dish inventory. Marie says that "the dishes you love should be the ones you use every day." Keep this in mind. Are all those extra plates, glasses, and mugs for "extra guests" really necessary?
Don't Forget to Ask, Does It Spark Joy?
If you follow Marie Kondo's show, you know she wants you to ask this of every item. The idea is that we toss or donate anything that doesn't spark joy. Just like our relationships with people, we want to cut out the toxic ones. You want your space and items to be a source of joy in your life, not a source of stress.
If you have any questions about organizing, renovating, or the real estate market in Collingwood, contact Christine Smith, she can answer all your questions.