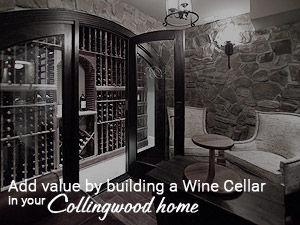 Wine is definitely a gift and having a wine cellar in your Collingwood home is the gift you give yourself. Imagine hundreds of bottles aging under perfect conditions under your own roof. Building a wine cellar in your home is not as daunting as you might think. There are only two really important factors to consider: humidity and temperature and both of these can be controlled with the right design.
Finding the right space
You don't actually need much space for your wine cellar, as hundreds of bottles can be stored from floor to ceiling. An unused corner of your home would be perfect, but it will need to be away from direct sunlight so a basement is your best choice. The northeast side of your home gets the least sunlight, so is also the coolest. Framing and drywall are the easiest parts of building the wine cellar, as you can use 2×4 or 2×6 planks, but ensure you use a moisture-resistant drywall. Use a spray foam to insulate the wine cellar as it acts like an insulator and a vapour barrier, which you'll need to keep the temperature and humidity inside of the cellar. Even a closet can become a wine cellar and then you can skip the framing and drywall, although you'll still need a vapour barrier.
Temperature and humidity
The appropriate temperature for your wine cellar should be about 12 or 13 degrees Celsius. This will age the wine at the proper rate (not too slow or fast). As for humidity, you'll want it at 57% or else you'll either grow mold on the cork or dry it out. Both choices are unacceptable. You'll need a cooling unit, but it will have to be specifically for wine cooling, as it also controls humidity. Rosehill Wine Cellars is probably the closest location for buying your cooling unit, located in Mississauga. This is going to take the largest portion of your budget. If your cooling unit doesn't provide enough humidity, you can also add a humidifier or an indoor fountain, which sounds as cool as it is.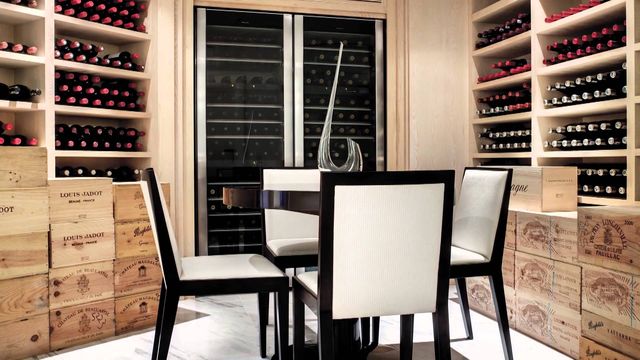 Taking a look
The doors of your wine cellar can be glass, which is a very attractive option, but it will give you very little insulation. If you are using glass doors, you'll need to ensure your cooling unit has the appropriate amount of BTU output to counter the loss from the doors and have the glass be double-paned. An exterior door is your best option with weather stripping and a threshold.
How you store your wine is important, so you'll need to consider racks or custom shelving. You can choose between metal or wood racks, depending on your budget. Racks should almost be considered before construction begins, as you can tailor your space around the right size of racks.
Other options
Lighting is a cool feature in a wine cellar, but it also adds to cost and possibly could heat up the area and cause your cooler to work harder. Kick plates are also popular to keep shelves in line and for a finished look. Again, this could add to your budget, but also adds to the wow factor.
Increase the Value of your Collingwood Home with a Wine Cellar
Having a wine cellar in your home is a sensible investment. If you sell and have a beautiful wine cellar will certainly add value to your Collingwood home. For Buyers who are in the market for a home with a wine cellar this could be the deciding factor in your favour.