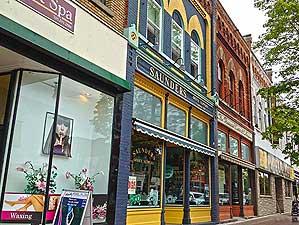 Collingwood is a great town that offers many of the same activities and amenities that the bigger cities offer. It is just on a smaller, more personable scale. Imagine hanging out with some of your close friends on a Friday night in the heart of Collingwood. You have your choice of so many places including bars and restaurants, and even art galleries. The galleries usually have special events planned to coincide with the warmer weather. In fact, this time of year, these kinds of events are just getting started.
No matter what your palate is requesting, you will find a plethora of global cuisines right in Collingwood. It may not be a big city, but it sure has the feel of one. Are you in the mood for American, Chinese, Greek, Mexican, or Italian food? Because in this quaint, eclectic town, you can find these dishes and so much more. Treat your taste buds to a globally-inspired dinner and then meet friends for drinks right after. The perfect complement to any perfect evening is spending it with friends, family and loved ones. What better way to do that than to break bread at any one of Collingwood's fabulous establishments?
After dinner, get your dancing shoes on and make your way over to a popular nightclub located in the heart of all the fun. Many of these fabulous establishments offer live entertainment, too. You will never be bored, that's for sure. There is no shortage of pubs and sports bars in Collingwood, and expect to make several new friends by the end of the evening. The residents of this small town are extremely welcoming and you will feel right at home. Grab a stool, plant your feet at the bar, and experience the best night of your life.