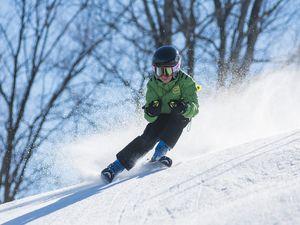 Whether you are looking for the perfect holiday getaway or just want to spend a day with your family and those you love the most, Blue Mountain has events throughout the winter season that your entire family will love. Pull out your calendar and begin scheduling as there are many events that will create a memorable and exciting winter season.
Fallicious
October and November are the ideal months to spend at Blue Mountain Village. During these two months, it's Fallicious time where you can enjoy fabulous cuisine while basking in the beauty of the fall season. Lunch and dinner specials are at a discounted rate and you can enjoy a taste of what the Blue Mountains has to offer.
Audi FIS Ski Cross World Cup
During the last week in January, head to the Blue Mountains to watch Olympic skiers compete down a challenging, yet thrilling course. The 2019 Audi FIS Ski Cross World Cup will be held at the Blue Mountain and you can sit back and watch these professionals race down the mountain and show off their skills and talents. The event will take place from January 23 through January 29, 2019, and more than 120 athletes are expected to compete.
Family Weekend
Bring your entire family to Blue Mountain February 16 to February 18, 2019, for a fun-filled family weekend. The entire weekend is planned with activities such as dancing, a scavenger hunt, fireworks, and more. Plus, you can spend time being active and get your body moving up on the ski hill.
24H Blue Mountain
If you have a group of friends who want to have an adventure, be active, and help a good cause, 24H Blue Mountain should be at the top of your to-do list this winter. From February 23, 2019 to February 24, 2019, bring a relay team together and ski for a continuous 24 hours to support the Collingwood General & Marine Hospital Foundation and the Special Olympics. For the 2019 year, a walk and run relay option will also be provided to those who do not wish to ski.
No matter what your plans are this winter in Collingwood, Blue Mountain has activities for every age group, passion, and interest. Whether you want to just get away and relax or you are looking to hit the slopes, Blue Mountain must be at the top of your list.