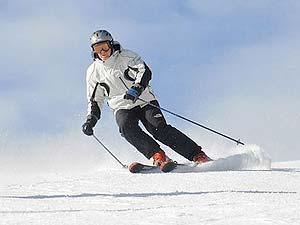 The time has arrived — if you are a former pass holder at Blue Mountains you will have received your information in the mail, or will be receiving it any day now. October is the month everyone in the area starts focusing on and getting ready for the next season of course, Ski Season!
Blue Mountains is Ontario's largest mountain resort and brings thousands of visitors from all over the world to the Georgian Triangle. The Blue Mountains will be gearing up now for the winter activities, the mountain bike trails will be transformed into ski runs, the gondola which takes the bikers and hikers to the top of the mountain will shortly be replaced by ski lifts. All though the area is known as a 4 season resort, the winter is still the busiest of the seasons.
The ski season passes are on sale now and if you are planning on skiing or snow boarding this year at Blue make sure you get your passes before November 1st to save yourself some cash.
Super pass is $699.00 Adult, $449.00 Senior and $449.00 Youth, saving you a $100.00 prior to November 1st. Once again Blue Mountain is offering "double down" a great saving for you or a great gift for friends coming to visit. The double down entitles you to 2 day/night lift tickets valid anytime during the 1010/11 season. These tickets are fully transferable but are only available until December 16th with a limit of 2 per customer.
Once again, Thanks Giving weekend kicks off with numerous tent sales and ski swaps, so get yourself up to the area for lots of bargains and get yourself kitted out with all your winter gear Thanks Giving weekend. The ski shops in the area will all have goods on sale as well as the big ski swap happening at the mountain. Check out the mountain while the slopes are green and you will also catch the amazing fall colours.
All the restaurants and bars are open at the Village at Blue and don't forget we have some great shopping and restaurants in both the town of Collingwood and Thornbury. Driving into and out of town you will notice the apple sellers are also out in full force so pick up some fresh picked apples to take home. We grow some of the best produce in the country, right here on the doorstep of Canada's largest city.