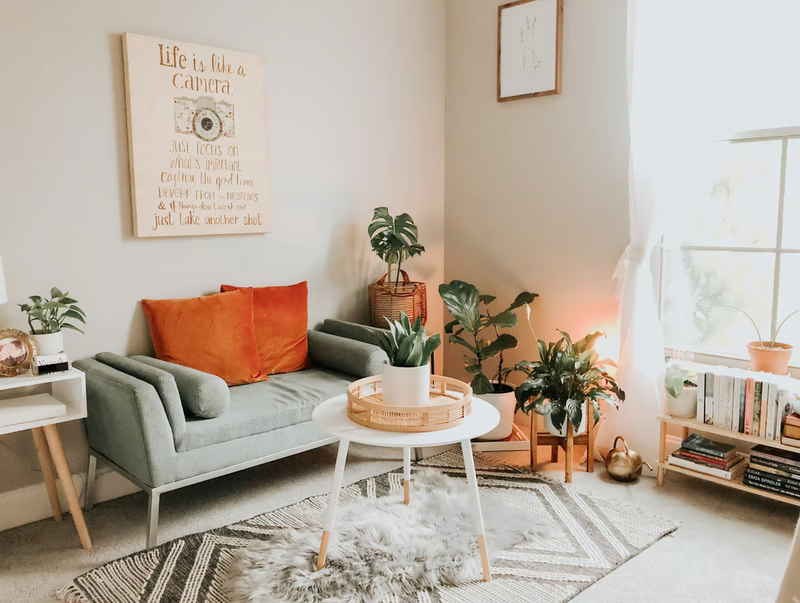 Have you ever been in a living room and felt overwhelmed by all of the clutter? Have you ever been looking for a way to make your living room into a comfortable space where it is easy to relax and unwind? 
When it comes to living room organization, there are two general approaches: decluttering and organizing. Deciding which approach is best for you depends on your personal preferences, but the key is to take the time to evaluate the different options and determine which will work best for you. Once you've chosen a strategy, it's time to start getting the area in order.
Bookshelves
A great way to declutter and organize your living room is through bookshelves. Whether they are built-in or freestanding, bookshelves provide storage for books and accessories while helping to clear up floor space and make the room more visually appealing. For a DIY bookshelf,  you can attach a wooden board to the wall and install brackets from which to suspend shelving. You'll also want to fit each shelf with a lip or guard to prevent objects from slipping off.
Entertainment Center
An entertainment center can help to declutter and organize your living room. Many entertainment centers are designed with drawers, shelves, cabinets, and cubbies that provide ample space for all of your media components, DVDs, video games, music collections, speakers, tchotchkes, mementos or knickknacks. Trying repurposing old furniture pieces for this purpose, such as an old chest of drawers, armoire, or dresser.
Coffee Table
A coffee table can help to declutter and organize your living room. A coffee table, paired with chairs, is the perfect place to set down drinks, books, magazines, remotes, or other items that you want within easy reach when seated on the sofa or loveseat. Old trunks can be upcycled to make fun, whimsical coffee tables with storage.
Hutch 
A stylish hutch can provide plenty of storage for your plates, glasses, dishes, and other dining essentials. A hutch is a perfect place to show off your fine china or finest crystal for special occasions. Dressers can be repurposed as a hutch to give new life to a dated piece of furniture.
Baskets
Baskets can be used to store things like blankets, throws, pillows, or even toys for your kids. A blanket can help to declutter a living room when you are in the market for a new sofa. For a DIY basket,  start with flat-woven baskets, found at craft stores.
Get ready to find your next property with a gorgeous living room.