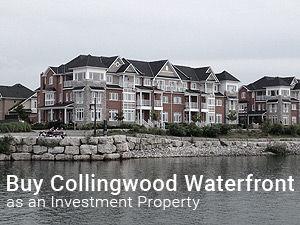 With the Collingwood real estate market being hot right now, buying an investment property is a no-brainer. Values are going up by the day and any home, cottage or property you buy in Collingwood, especially a highly-touted waterfront properties, is going to be a good investment for you. Not only will you see an investment in the value of your home over time, you can also make an investment property in the traditional sense –by renting it out. There are a few ways you can do this.
First, you can offer the property as a lease to a family, couple or single, going year-to-year. Second, you can rent it out seasonally, with the summer and winter being hot times for seasonal rentals in the Collingwood area. Third, you could rent it out on a short-term basis using the very popular AirBNB site.
All of these options will give you a good return on your money and each has its own pros and cons.
Waterfront real estate for sale in Collingwood for all budgets
Starting at less than $300,000 this condo unit in the Ruperts Landing community has some fantastic amenities. You can see the water from your patio and private green space. As well, your condo fees include the use of the many recreational facilities, which include an indoor pool, tennis, squash, hot tub and sauna. While your mortgage won't be high on this one, you'll get a great rental income as people will be vying to stay close to the water, with lots of recreation.
Another waterfront condo, this one for just under $500,000 is located on Boardwalk Avenue. With beautiful curb appeal and high end finishes within the condo, the main draw will be the outdoor pool located right in front of the water. With four bedrooms, this would be the perfect full-time rental for a family or seasonally.
For just over $900,000 this detached 5-bedroom home is located on Waterfront Circle within the Blue Shores. You'll get views of Georgian Bay right out your front door and there is also your own boat slip at the marina, which is in walking distance. On top of this there are some fantastic amenities including indoor and outdoor salt water pools, hot tub, fitness centre and tennis courts. You'll definitely get seasonal and short-term renters in on this one, especially if you include use of a boat.
The most private home on the list, this Georgian Manor Drive home is located right on the shores of Georgian Bay. No detail was left out in the build of this $979,000 home, which has reclaimed wood floors, antique glass, salvaged and unique finishes and so much more. You'll rent this high-end home very quickly and won't want to miss out on spending the off-season there yourself.
contact me for a chat.