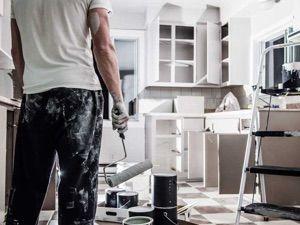 In this seller's market, a home buyer's choices are limited. Gone are the days where the inventory on the real estate market was great and you had your pick of the home you wanted and the location. In 2017, because of the limited inventory, you may need to settle into a home that is less than you expected. This could mean you pay more for the home, you choose a location that is less than desirable, or you choose a home for sale in Collingwood in a good location that needs some work. Renovation television shows make you think that fixing up a home is simple, but it does require a lot of know-how, patience and a significant investment in some cases. Basically, the question you need to ask yourself is — "Can I fix it up?".
Get the home inspection
When you are looking at a home that could be deemed as a fixer-upper, you definitely want to get an home inspection to find out what else lies beneath the drywall. With the results of this, you can better estimate your costs for renovating and decide if it is worth it for you. The minimal cost of an inspection could save you thousands once you've decided to tear down the walls.
Recognize what you can and cannot do
Refacing cabinets is one thing, installing all new electrical is another. Ensure that you have the right experience (and time and budget) to get the job done right. Make notes of where you'll have to hire a contractor, as this will be a cost that could be large. If you plan on living in the home while doing the renovations, you may also want to consider a budget for a hotel on the days where living there is unbearable (drywall dust gets in every crevice imaginable).
Calculate the value of your work
If you are buying a home in Collingwood where values are going up, generally renovations will mean that your home will be worth more when you are done. In Collingwood, home values are rising and doing renovations could definitely be worthwhile. Ensure that you aren't putting in high-value renovations that won't hold their own for the neighbourhood. Each area has a cap of what a home will sell for and it won't matter if your $100,000 kitchen has beautiful countertops. If you plan to live in the home for many years, you might not be as worried about value and be content to fix up the home so it is comfortable for you and your family to live there.
Recognize if you can handle fixing up the home
Renovations can put a definite strain on your wallet as well as your relationship with your family, especially if you plan to live in the house while making the changes. If you have existing marital, health or money problems, sit down with your family to devise a plan on how to make things go smoothly if you decide to buy a fixer-upper. The last thing you want is to have to sell the home because your spouse is leaving you after the strain of a year of renovations.
If you need any help (705) 888-0201 any time!