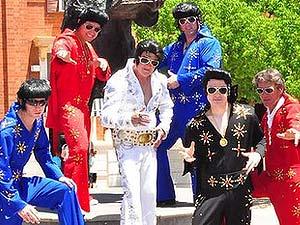 The 16th annual Collingwood Elvis Festival is taking place in Collingwood Ontario on July 22nd to 25th. This is one of the biggest, if not the biggest Elvis festival in the world.
This is one of the busiest weekends in Collingwood. Elvis fans, both young and old come from all over world to enjoy the weekend of activities. No matter what your age, there is fun for everyone. Behind the main street the kids can enjoy the fun fair and rides. The bars and restaurants in the downtown area bring their tables and chairs outside and everyone is enjoying all fresco dining. The atmosphere is fantastic and the weather usually cooperates to add to the enjoyment. Vendors come from far and wide to sell their wares, if you are looking for Elvis paraphernalia you will have a field day here! There are plenty of fast food outlets set up on the side streets too. But you may want to check out many of the fine restaurants that Collingwood has to offer, including French, Thai, Chinese, Japanese and more.
The weekend kicks off with a giant Street party starting at 1:00 pm on Friday. The main street of Hurontario is closed for several blocks and a huge stage is erected, people bring their lawn chairs and set up for the evening of entertainment.The street is packed with revelers enjoying the fun until the wee hours of the morning.
On the Saturday morning there is a great parade down Hurontario Street and if you like classic cars, this parade will delight you. The Elvis entertainers parade down the main street in classic cars.Following the parade many folks head for the local restaurants offering great breakfasts after the parade.
The fun continues throughout web site.