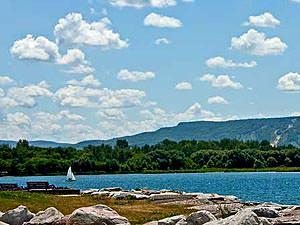 Have you been thinking about buying a home and would like nothing better than a location that is filled with breathtaking beauty? Then you have landed on the right web site. Here you will learn Collingwood Ontario and about all the properties it has for sale. You never know where you might find that prefect house you have been searching for — are you ready to find out? Then let us begin!
A beautiful place, fit to serve as a resort, the Town of Collingwood, is the place to be when it comes to living in a peaceful and serene environment. This town has been showing a steady growth over the past few years, which has increased its attractiveness.
People from all over Ontario and across Canada; have started moving to this area, to make it their permanent home. However, you can also purchase real estate here to use it as your secondary home, cottage or even a ski chalet for winter vacations. Any time you want to go to a place of relaxation then this is the place to be at. If you are an outdoor person, and love going outside and enjoying nature, then you will find many recreational activities for yourself.
The real estate properties here are all reasonably priced, making them an attractive investment option for all. You can choose to ski within the Blue Mountains, or simply take a walk in the park. No matter what you choose to do here; life in the town of Collingwood will be very exciting. Dine out, or test your culinary talents at home, you have a range of choices available to you. Select any recreational activity and you can be sure to have a marvelous time.
For all those who are thinking of moving to this scenic Georgian Bay area, there are various waterfront real estate communities to choose from:
Each offering some of the best waterfront residential views. Make sure that you are ready to select from some of the most spectacular choices of residential houses and condos available in Collingwood.
Get set and ready to make your move to Collingwood
Keep your papers and other legal documents ready, so that you can start living your new life in style in this historic shipbuilding town. You will find many activities to keep yourself busy and entertained. So what are you still thinking about? Stop deliberating and get ready to choose that one perfect house of your dreams — which grabs your attention.
Come live a lifestyle like no other in this beautiful waterfront town called Collingwood and get amazed by all the things it has to offer year round. Once you start living here, you will realize that moving to this amazing Georgian Bay area was the best decision you will ever make!