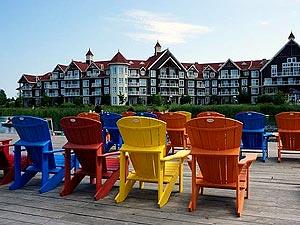 Vacation properties in Collingwood are a great investment, especially if you plan to rent them out for additional income. Collingwood Ontario is becoming one of Ontario's finest four-season places to live and play, which allows a vacation property investor plenty of rental opportunities year round.
The following tips are to help you become a smart Collingwood vacation properties investor.
1.  Find a specialized Collingwood REALTOR® like me, to help you navigate the Collingwood market. A REALTOR® can help you narrow your search to the best properties for your needs and your price range, all the while understanding the best places for investment. Your local experienced REALTOR® will be familiar with the community, building codes, and local property values.
2. Understand how much you can afford. Like any major home purchase, it is critical to understand exactly how much you can afford. You will need to factor in your running costs, like hydro, gas, etc., property management fees, cleaning fees, insurance etc. Also, mortgages for vacation properties have different rules than primary residences. Know and understand all the costs involved in the vacation property.
3. Location – Close to the ski hills or close to Georgian Bay? Within walking distance to downtown bars and nightlife or the quiet of a more rural area? Think about what your family needs in a vacation property and what you think renters will look for too. Your REALTOR® will be able to help you narrow your search to find the best place.
4. Think about your renters – make sure that your vacation property appeals to many different people. It should be spacious and comfortable and possibly accommodate large families. Consider the number of bedrooms – if the property only has a few bedrooms, try to maximize the space with bunk beds and pull out couches. Outdoor space near the Bay is much more important than outdoor space near the ski hills. If you are primarily renting to skiers in the winter, outdoor space isn't as much of a consideration. However, if you are maximizing the rental investment and plan to rent in the summer as well, outdoor space is important for entertaining and relaxing.
5. Identify the type of property that will suit both your needs and your renter's needs. Collingwood offers a variety of different types of properties. Condos, townhouses, semi-detached, and detached properties could all appeal to renters and your own family. Narrow your search down as much as possible so you are not spending your weekends going to many different types of places until you decide what you want.
6. Review the insurance implications. Vacation property insurance is very different from your regular home insurance.
7. What happens after you buy your vacation property? You will need to decide how you plan to market your property to potential renters. You could rent it out yourself, take the calls, do the paperwork, exchange money etc., by yourself, or you can use a vacation property rental/management company that does the work for you, for a fee. You will also need to have your property cleaned after renters leave. If you live close by, you could do this yourself. If you live a few hours away, you need to consider hiring a cleaning company to clean between renters. Plan for repairs – not all renters will treat your home as you would. Lawn and garden maintenance and snow removal services are costs you will also need to factor in if you don't plan on doing it yourself.
Purchasing Collingwood Vacation Properties
There are many things to consider before you purchase your Collingwood vacation property, but many will tell you it's a worthwhile investment. Your Collingwood vacation home should accommodate your family as much as your rental guests. Research, plan and invest the smart way so you maximize your investment and enjoy the benefits.
If you would like more information on Collingwood vacation properties, I would be more than happy to answer any questions you have, contact me today!