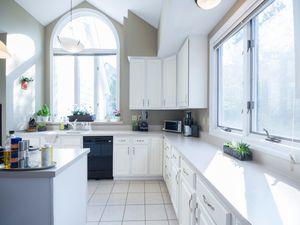 The kitchen is the gathering place of the home. It is also an area that can make or break a home sale in Collingwood. During a kitchen renovation, you must make decisions regarding the materials and design of this room carefully, including your kitchen counters. Each option comes with its own set of pros and cons and one may be more ideal for your home than another.
There are numerous countertop options including granite, quartz, laminate, concrete, and wood. Let's take a closer look at each of these five options.
Granite Countertops
Granite countertops boast many colours and patterns. This makes it easy to find the exact design that you desire. This is a popular choice among homeowners in Collingwood as this material is extremely durable. It can handle many meal-prep activities including cutting and chopping. It is also easy to clean, but you will need to seal it regularly to keep it in excellent condition and to prevent staining.
Quartz Countertops
Quartz is similar to granite with its many colours and pattern choices. Quartz counters do not require any sealant or extra maintenance, which is a large advantage. They are also resistant to scratches and you will not damage them if you place a hot pot on its surface. However, you must be mindful of foods and liquids that can stain the countertop.
Laminate Countertops
If you are looking for a more cost-friendly countertop, laminate materials should be considered. These items also boast a wide variety of colours and patterns, making it easy to find the look that you desire. Laminate countertops are also easy to clean and you don't have to worry about regular maintenance. However, they can scratch and excessive heat can damage them.
Concrete Countertops
The industrial trend is gaining popularity among homes in Collingwood and this has led to an increase in concrete countertops. These counters add a unique design to a home and they are easy to customize, which appeals to many homeowners. Concrete countertops are not as durable as both granite or quartz counters. These items can stain and scratch. You must also be mindful of cracks in the cement as well. To maintain them, you will need to apply a sealant and wax them quite often.
Wood Countertops
Wood countertops are another popular option and rightly so. They are extremely durable and if damage does occur to them, you can simply refinish them, rather than replace them. You must be more careful when cleaning these counters as certain chemicals can damage the wood and dull its shine.
For more information on home improvement, renovations, the Collingwood real estate market, and local events and activities, contact Collingwood real estate agent Christine Smith.