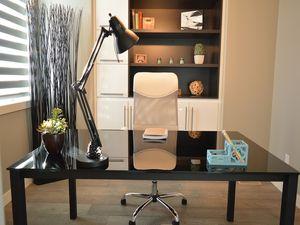 No matter if you are working from home temporarily or this is the new normal, you need an incredible workspace to reside in each day. Having a gorgeous, functional, and trendy home office is not only going to make your life a little easier but it can be a major selling point for buyers as well.
To help you create the ultimate home office, here are a few tips.
Stay Away From the Distractions
One of the most difficult aspects of working from home is all of the distractions. Your office needs to be a place where you can get away from these distractions and focus on your work. As you choose the location of your home office, try to choose an area of your home where you can shut the door and concentrate on work-related tasks. You may also want to bring in small fans or white-noise machines to help drown out outside noises.
Choose a Room with Plenty of Light
Studies have found that natural sunlight offers a plethora of benefits including mood enhancement and increased productivity levels. As you plan out your home office, find a location in your house that receives plenty of sunlight. This means you won't want to tuck your home office away into a dark corner of a basement but rather, choose an upstairs bedroom with a large window.
Paint the Walls
Your home office should stand out from the rest of the home. You need to feel like you are actually heading to work when you sit down at your office each day. Plus, the color you choose for your walls will help you create a stylish and trendy office space.
While neutral colors are always recommended, you may consider an accent wall behind your desk with wallpaper that is covered with lots of design and patterns. If you want to stick to the lighter colors, choose colors like light blues or greens that help you to relax and can provide a calming effect on your mood.
Keep the Space Open
It is easy to let your home office become cluttered and crowded, but don't let it. Avoid filling your room with too many chairs, large filing cabinets, an unusually-long desk, etc. Only allow the essential furniture items in the room such as a desk and chair, a small loveseat, a lamp, and a bookshelf. When the room is open, it will make the space look larger and less cluttered, helping you feel less stressed and more productive each day.
If you are looking for more home improvement ideas, information about the current real estate market, and help with the buying or selling process in Collingwood, visit Collingwood real estate agent Christine Smith's blog.