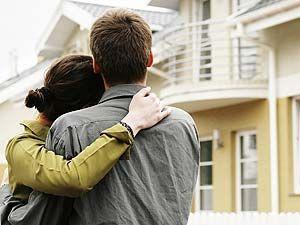 We will soon be coming into peak selling season — spring — but in the meantime, you probably want to get your home ready if you are going to list it. This season is definitely a tricky one to get that coveted curb appeal, mainly because of the very differing weather patterns we get through the month of March in Collingwood. We can go from a high of up to 20 degrees with sunshine, down to a low of -20 with snow squalls. How do you create curb appeal when the weather is so unpredictable?
Clear your driveways and walkways
If you do have snow on your driveways and walkways, always make sure it is cleared, so that there aren't slip hazards and so that it looks like you take pride in your home. As well, with melting snow comes the glut of sand, salt and dirt from the road. Wait until you have a warm day and then spray the areas down and sweep it with a stiff-bristled broom. If you want it to be even cleaner, try using a washing soda applied with stiff push broom. A power washer would also be handy in this case.
Pick up any garbage
Inevitably, you will find garbage or debris under the snow heaps. Bag up any debris, as well as any dead greenery that may not have made it through the winter. Hopefully, you took the time to trim back bushes and perennials, so that work is already done. If not, it may have to wait until a little further along in the season.
Pamper your lawn
If the snow is melted and your brown grass is showing through, give it a good rake to get rid of anything that is dead. If there is still snow on your lawn, you won't have to do anything.
Clean your windows
Before you think this suggestion is mad, clean the windows from the inside now and do the outside as soon as the weather is warm enough. While they won't be as sparkling clean as they would be had the windows been washed from the outside, warmer days are a better time for that job. But, if you can tackle them from the inside, you can make quite a big difference. Wash your screens and window coverings as well and you will see a noticeable change when you are on the outside looking in.
Put away the winter decor
If you've still got Christmas lights hung up or a wreath on your door, remove them immediately. In December, these accessories look magical, in March, they look like clutter.
If you need help boosting your curb appeal in Collingwood, don't hesitate to talk to me first.