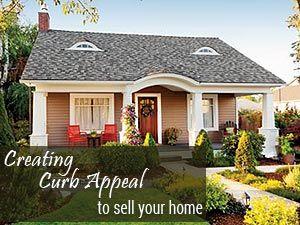 When it comes time to sell a home, there can always be a concern about how long a house may be on the Collingwood or Thornbury market before it is sells. This causes Sellers and REALTORS® to utilize a number of tactics once the property is listed, in order to increase the chances of finding the right Buyer. However, it can sometimes be appropriate to plan in advance before listing your home for sale in order to increase the possibility of a speedy sale. How?
By creating Neighbourhood Envy!
Most Sellers understand the importance of curb appeal, even if this is not the first action that is taken when their home goes on the real estate market. More frequently, Sellers will ensure that the exterior of the home and property is inviting for the actual listing photos, and will then trust that this image is strong enough to draw in Buyers. This can be a valid approach, especially when properties are listed at the change of seasons. As a result, potential Buyers are left with the idealized view of the home in order to spark interest, and can be fully convinced of a purchase when they come in for the actual viewing.
Maintaining your curb appeal can often have a greater influence on potential Buyers, since it makes allowances for the visual of the property to impact people who may not even realize they are on the market for a new home. There are a number of times when Buyers become excited about a house for sale once they realize that it is a property they have admired from afar for months or even years. This means that the curb appeal of the home has been highly effective, even if it was not initially intentional.
Neighbourhood Watch
Although Sellers cannot always have the fortune of neighbours coveting their home, this perspective of curb appeal does teach a valuable lesson. Consistently inviting appearances for a property will make a stronger impression than sudden or temporary changes. When Sellers are even considering listing a home, then it could be beneficial to improve curb appeal at that stage in the decision making process. This can ensure that your home is noticed long before your house goes up for sale.
Another important point that this raises is that Buyers are looking for attractive homes for sale in area that project a sense of living. The draw of the property can be a combination of aesthetics and practical considerations for raising a family. The consistency of well-maintained curb appeal can also bolster this sense for your home, and can help Buyers to envision themselves in that scenario.