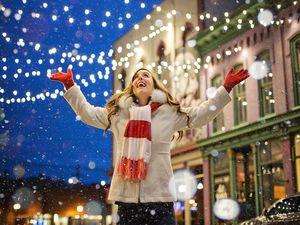 If you want to get away from the hustle and bustle of life in Collingwood, the Blue Mountains are a perfect escape. Not only is the area relaxing and beautiful, but there are also a variety of events to keep you entertained and happy. Here are a few of the winter activities you won't want to miss in the Blue Mountains this December.
Blumination Dream Trail
Enjoy the winter weather and the holidays with the Blumination Dream Trail. Take a walk hearing beautiful music and looking at gorgeous lights along a one-kilometre trail. The trail is free to enjoy and is open from dusk to 10 p.m. each night until March 28, 2020.
Firework Show
Add a little light and color to your life with fun and lively firework shows. Every Saturday in December as well as Tuesday, December 31, enjoy a firework show over the Mill Pond. The firework show is free to attend and is the perfect end to the day at the Blue Mountain Village. The firework show will begin every Saturday at 8 p.m. On Tuesday, December 31, one show will begin at 9:30 p.m. and another at midnight.
MJ Byrne's Horse and Wagon Rides
Enjoy the Blue Mountain from a different point of view — on a wagon. From 1 p.m to 4 p.m., free horse and wagon rides are available for guests. The wagon rides will take you all around the mountain and help you enjoy the beauty of this area. The rides are available on a first-come, first-serve basis with pick-up outside of MJ Byrne's Irish Pub.
In December, wagon rides are available on the following dates: 8, 14, 15, 21, 22, 26, 27, 28, 30, 31.
New Year's Eve Party
You will want to ring in the new year at the Blue Mountain Village. This is the place to be to celebrate the new year with an exciting holiday party. Begin the evening at one of the many restaurants at the Blue Mountain Village. Many of the local restaurants are offering specials for the evening. After dinner, head to MJ Byrnes for a night full of food, music, and drinks. Don't forget to also visit the SMASH Nite Club for music, drinks, and the ultimate holiday party. Then, end the night at the firework show over the Mill Pond.
For more information on local events, the current real estate market in Collingwood, home improvement, and more, visit Collingwood real estate agent Christine Smith's blog.