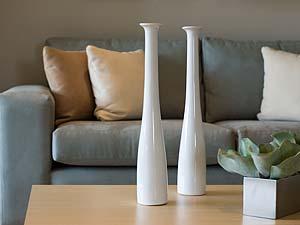 If you have recently bought a new house, or have plans in the works to do so soon, you are likely already thinking ahead to the next exciting part: decorating. And whether you like decorating or not, chances are, if you are a new homeowner, you may not have a lot of spare cash to put towards outfitting an entire house. This is where a few budget-friendly decorating ideas can come in!
Embrace the Minimalist Approach
Room decor has reached a place in time where less is more. Many of the current, trending decorating themes adopt the minimalist approach, embracing less clutter, fewer things, and an overall more restrained and intentional approach than many previous home styles. Keeping things budget friendly is a great reason to also adopt the minimalist approach. Choose one focal statement piece for each room. This can be something that you spend a bit more money on if you choose to. From there, fill in the rest of the room, with simple décor that contrasts the statement piece, while simultaneously helping tie the room together with the other pieces you select. For example, if the statement piece in your office is a vintage desk, complete the ensemble with a simple desk lamp and as well as some plants to fill the corner.
Go Green
Plants are an instant pick-me-up to any room. Not only do they always add a beautiful pop of color and green vibrancy, but they also add life into the room, which creates good energy and makes the room visually appealing. While plants can be expensive, opt for less expensive varieties, such as succulents and cacti, or take an offcut from a friend's plant and root it yourself in some water or soil. Don't have a green thumb? There are plenty of artificial plants and flowers available on the market, which don't even look artificial! Some can be a bit less budget friendly, but if you look around and wait for sales, you will be able to outfit your room with some plant life, regardless of how savvy you are at growing and keeping things alive!
Revamp and Reuse
Whether you take an old piece of furniture you currently own and make it like new, or you go to the local antique store and pick up something new to you, there is lots you can do with old pieces of furniture that will help them take on a whole new look and character that suits your room and house. Something as simple as purchasing new hardware for your dresser, or giving the headboard of your bed a distressed wood look using sandpaper and some paint, can go a long way for a small amount of money. Rustic, distressed-looking wood, furniture and serving dishes do well as decorations, but also are timeless classics, which will have a long-term purpose and not simply become a passing trend.
With a little bit of thought, some careful planning, and a dedicated time commitment, you can easily take on to decorate your new house and still have money left in your bank account. Keen to do some budget friendly decorating, but still looking for the right house? You can be sure Christine has all the answers. Reach out today to get stared on the plans for your new home purchase.