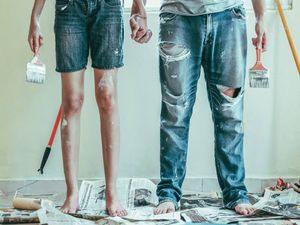 After years of living in your Collingwood home, you may notice a few signs of wear and tear. Some paint is chipping, your furniture is well-used, and your yard is something else. While you want your house to suit your design taste and appeal to buyers if you plan to put it on the market, you're holding off because you don't want to invest in professional services. But, there's good news! You don't need to hire pros to spruce up your Collingwood home.
There are plenty of maintenance jobs you can complete by doing it yourself. That way, you can save your money while boosting your property value.
Give your Collingwood home some TLC with these DIY maintenance tips:
Clean Your Gutters
This is a basic job that you can do if you have a sturdy ladder. By clearing debris from your gutters, you can avoid potential water damage to your home. Experts recommend that you clean your gutters twice a year.
Use Your Green Thumb
Your landscaping is influential on your Collingwood home's curb appeal. Whether you are selling or continuing to live in your house, you want onlookers to appreciate its attractive features. Take some trimmers to the shrubs around your property, shape and treat your garden with the right soils and water so your plants can grow. Maintain your yard by keeping your grass lush and mowing it when necessary.
Oil Up Your Hinges
You may find it increasingly challenging to use your doors and windows in your home, especially with the squeaky noise that comes from them. The stiffness and noise mean they need their hinges cleaned. Using a lubricant, you can remove the rust buildup so your doors and windows open and close smoothly without a sound.
Get Rid of Water Stains
If you live in an older home, you may have experienced some water damage. After the issue has been resolved, the stains remain. With some bleach, you can spray and wait a day or two as the stain fades before your eyes.
Insulate Your Windows
Some older Collingwood homes include single-pane windows, which may cause more cold air draft and lead to pricier heating bills. Fortunately, you can find insulation kits to help keep the indoor warmth inside and keep the cold outside during the cold winter season.
Sell With a Collingwood Real Estate Expert
If your home repairs are motivated by your mission to sell your Collingwood home, let a talented local real estate agent help you through your process. Christine Smith will offer insights on how to fix up your home so it can thrive over your competitors on the market. Contact her today to get started.