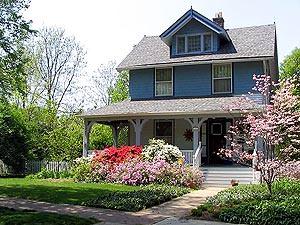 When selling homes or properties in a diverse neighborhood such as Clarksburg Ontario, owners will often find that a property's curb appeal is tantamount for the guarantee of a speedy sale that also reflects a property's true value. While a number of residents do have town-homes and condos in the more urban sections of Clarksburg and Thornbury, much of the real estate draw for this community is in the older farmhouses, single family residential and parcels of land.
There are several things that can happen with these types of properties. If the owner is living in an older home, they may take the time to maintain the living area, but can allow much of the land to fall into a more natural state. Parcels that are mostly land and are only marginally developed can also come into states of disarray with ease. While eager buyers can still see the potential in the land, this factor should not be taken as a given, so even land should be maintained for a faster sale.
Playing up the Countryside
One of the larger draws for buyers who are looking at buying homes within the Clarksburg and Thornbury area is the fact that larger lot sizes and great gardens are a part of the lifestyle. This means that sellers should strongly focus on this aspect in making properties more attractive and rising the asking price. However, the type of land and home maintenance that should be invested in can differ.
Open Lots
Land owners need to be able to appreciate the fact that these properties can become a dream vision for interested buyers. General maintenance for uninhabited lots should include such things as.
Basic mowing.

Keeping brush to a minimum.

Stumping dead trees and removing deadfall.

Surveying for possible well sites on the property.
These types of activities will make it easier for buyers to truly be able to envision their dream home in Clarksburg or Thornbury and can also increase the estate price by having value added commodities such as the well sites and the pre-cleared land. Even if no one is living on these sites at present, the land should still appear hospitable and inhabitable.
Inhabited Lots
If the seller is already living on the land, then upkeep will usually be easier to maintain. However, the Clarksburg and Thornbury countryside can make it easy to neglect remote portions of the lots. This means that sellers should be thorough in terms of debris removal and repairs before putting the home on the real estate market, since it will lead to less price negotiation when interested buyers do come calling.