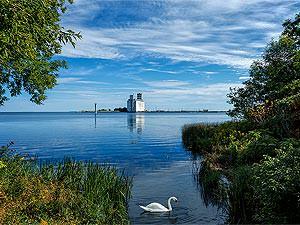 Relocating in the town of Collingwood holds a strong appeal for Buyers who enjoy the amenities of an urban city while still having full access to the natural beauty this area has to offer. Although not classified as a city, Collingwood has the shopping, the restaurants and even the lifestyle that elevates  it over many of the other neighbourhoods along the Southern Georgian Bay.
Ultimately, one of the most unique features of Collingwood is its trail system that offersurban pleasures with country charm. The trails are perfect during all four seasons and are great for everything from biking and hiking in the summer to snow shoeing and cross country skiing in the winter.
Collingwood Ontario boasts a large range of living spaces ranging from townhomes and single family dwellings on private lots and condos along the waterfront. For individuals who are selling their home, this presents a competitive real estate market in terms of its appeal to the right Buyers. When it comes down to whether you are buying a property in Collingwood or selling; the lifestyle here is so diverse that it gives this town an urban feeling which can be used to enhance your property when it does come time to sell it.
Staging a Collingwood Home or Property to suit a Lifestyle
Staging and decor can influence the decisions that Buyers are making and this generates an important choice for Sellers as to how they want to brand their property. The different neighbourhoods located throughout Collingwood should make the most of their environment, in order to appeal to the right Buyers at the right time.
For townhomes and condos that are located closer to down town, it can be important to play up the idea of a modern living space within traditional architecture. This can include taking a minimalist perspective on the interior of a condo or home that utilizes historic architecture.
Sellers with homes and condos along the waterfront will need to bring the feeling of waterfront living into their properties. This type of staging and decor may include the use of nature based art pieces to encourage the sense of waterfront living. If there is access to a dock, this should be included in your branding in order to highlight this property's feature.
Single family homes in Collingwood often have larger lots with big backyards filled with beautiful gardens and trees, giving a sense of freedom and space. Interior decor can bring this highlight into play as well, with the use of open space and a focus on the view of the backyard.
Understanding the attraction of a home can be personal, but it can also touch upon a diverse aesthetic that may intrigue any Buyer looking for the perfect lifestyle in an urban town that can be easily called a city.