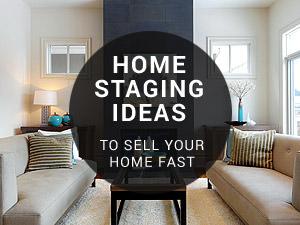 If you are looking to sell real estate in Collingwood and have it put it on MLS®, you know that appearances mean everything and staging that Collingwood home of yours properly plays a big role in making a great first impression. However, as all real estate professionals know it is not feasible for every homeowner to hire a professional stager when most cost $100 (or more) per hour. Thankfully, there are five dirt-cheap staging ideas that end up in a great first impression every time — and get your house sold in no time flat.
Pack and Store your home
Cluttered homes do not appeal to buyers, ultimately taking more time (and effort) to sell. Pack up 30 percent of the things in your closet and at least 90 percent of all of your other belongings. Transfer those items to storage or sell them on Kijiji for a profit.
Remove all items from your bathroom and kitchen countertops; organize drawers, shelves and closet spaces neatly. Remember that buyers like to imagine arranging their own possessions and knick-knacks in your home; something they cannot do if your home is rife with clutter. Removing clutter maximizes space, which is always a good thing.
If you have children, pack their toys away. Keep the tyke's toys relegated to one room, and teach your children to pick up after themselves by putting toys neatly in the corner or in a toy box when they finish playing with them.
Take down personal photos
Prospective buyers are not able to picture themselves in a house when surrounded by your personal photos, religious items or artistic renderings. Ideally, you want your home to show like a model home, devoid of all personalization. Choose generic flower or landscape prints to hang in place of personal photos or religious wall hangings in order for your home to maximize its mass appeal factor.
Rearrange and Neutralize your home
Make sure each room in your home has a purpose and define each space accordingly. If you have a home office, set that room up like a home office, not an office and bedroom combo. Avoid having any multi-purpose rooms. Browse local homes for sale in Collingwood for ideas on how to do this.
Put a coat or two of fresh paint in the interior and on the exterior of your home, sticking with neutral colours only. Buyers are often turned off by bright, vibrant shades like oranges and reds, because they are time consuming and costly to paint over. Accent in vibrant colours, but keep flashy, bright colours off the walls. Tans and beiges work best.
Scrub everything to eliminate bad odors
Clean houses sell quickly. If you have pets, eliminate all pet odors from the house, as buyers may be allergic or have negative feelings about your furry friends. If possible, remove pets from the home before each showing.
Wash walls, baseboards, sweep, mop and vacuum on a regular basis until your home is sold. Consider deodorizing your home before each showing by lighting a candle with a popular aroma like vanilla or lavender. You could also consider boiling cinnamon sticks or baking cookies. Entice the buyer to stay longer by captivating him with welcoming, homey scents.
Enhance the curb appeal on your Collingwood home
Curb appeal is important in a home sale, and it does not cost an arm and a leg to improve upon. This is a vital staging tool, since the front of your home is the first thing a buyer sees and is often a determining factor on whether or not he wants to see more. Mow your lawn, clean your sidewalk and driveway, pressure wash the exterior of your home and clear all dirt and debris from around your property. Mulch your flowerbeds, and consider planting some affordable perennials for added exterior appeal.
Staging Real Estate in Collingwood to sell faster!
Home staging does sell houses in Collingwood on MLS® faster than non-staged houses, and it sells them for more money. Do not miss that next best buyer opportunity by forgetting to stage your home using these five quick and easy staging tips.