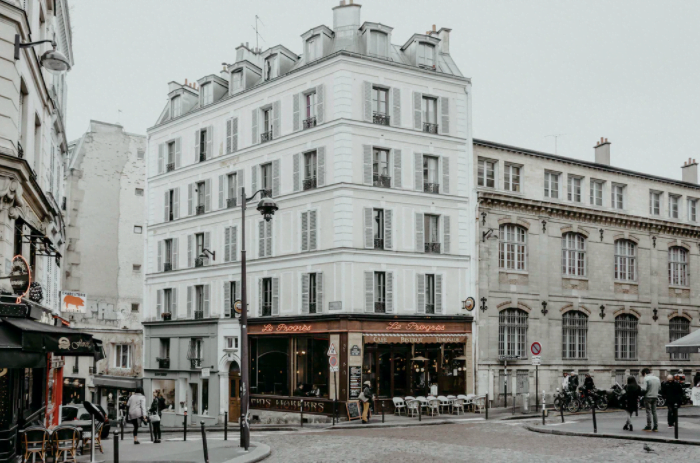 The general public often thinks of French architecture as being the go-to style for some of the world's most beautiful buildings. The designs of some of the most renowned French buildings are considered to be the pinnacle of architecture. 
French architecture reaches an impressive level of sophistication, with exceptionally well-designed castles, chateaux, hotels, and other structures. A typical French house is a small to medium-sized two- or three-story house, or occasionally a larger château with numerous wings, that is usually symmetrical and lined up along a straight street or boulevard. And then there's the famous Haussmannian-style buildings we find on the streets of Paris.
The French have a national obsession with beauty and this has been translated into their architecture. Decoration and detail are intricately constructed, with special attention given to the gables of the roofs, windows, and balconies, which often feature intricate carvings. Many buildings are set on the side of hills, creating views that are spectacular. 
What are some other French architectural characteristics?
Natural Stone Facades
The French have been recognized as one of the most creative architects in the world. Their designs are simple and elegant but with a touch of flair and a sophisticated finish. They are famous for their architecture that is made out of natural stones. They use stones with high durability resistant to weathering. 
Tall, Rectangular Windows
Tall, rectangular windows make French architecture one of the most prominent features of Paris. While their most famous examples are seen in the city's main boulevards, you can find them all over the city. The large windows make the rooms feel larger and brighter from the inside, adding elegance to the facade. 
Wood or Natural Stone Flooring
French design typically focuses on creating a well-balanced home environment that balances functionality with comfort, which is why it's so common to see French homes with wooden floors. Wood offers an attractive alternative to traditional stone flooring and can often improve the look of a room simply by pairing it with hardwood or marble furnishings and accessories.
Neutral Color Palette
French architecture is known for its clean lines, simplicity, and minimalism, and its colour palette is largely inspired by nature. The colors used on French buildings are usually very muted, with white being the most common, followed by shades of beige, yellow and blue. The use of light and dark colors is very important, as they help create a feeling of harmony and balance.
Double Chimneys
The French have an obsessive love for chimneys, and that's because the structure is both symbolic and practical. The chimneys are a welcome part of the French landscape from Normandy to the Rhone Valley. They are also a great way to add a little personality to your home.
Why not add a French touch to your next home?