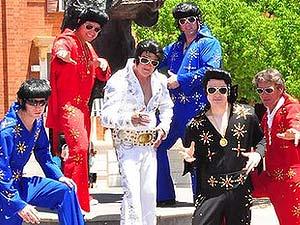 Which event do the residents of Collingwood and the surrounding cities and towns, look forward to every summer? The Collingwood Elvis Festival, of course! For almost twenty years, this four-day festival commemorates the life of Elvis Presley. A ton of preparation goes into the planning and successful execution of the extravaganza each year. There are so many reasons why you don't want to miss it.
From pub crawls to carnival rides, the Collingwood Elvis Festival has something for everyone. Do you like watching bands that sing popular Elvis tunes? Perhaps you enjoy late nights strolling through the venues with your significant other, beer in hand, dancing to the music played by the many Elvis impersonators that have the run of the town for the long weekend? At the very least, this festival is an opportunity to let your hair down and escape the daily grind at work.
The infamous Friday night street party is just one more reason why you shouldn't miss this incredible celebration. Can you imagine the clean-up involved when everyone stumbles home from the most fun-filled night of their lives?
Saturday morning there is a fabulous parade of vintage cars with all the ELVIS from all over the world riding through the main street in Collingwood, followed by a pancake breakfast.
The entire family is sure to find something to entertain so be sure to book your accommodation soon and get your best Elvis costume ready to go!