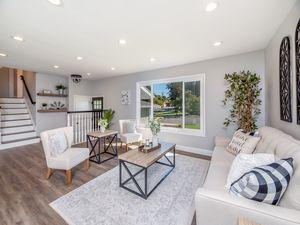 These days, you're spending more time at home than ever before. If you are settling into a new home that you've purchased on the Collingwood real estate market, you have a blank slate to add your personal touches and create a space that will make staying inside enjoyable.
These design tricks will help you make your home look good and represent your personality:
Use Light to Set the Mood
The lighting of a space can influence how you feel in it. Highlight natural lighting in rooms by dressing your windows with light, sheer fixtures. For ceiling lights, consider dimmers so you can control your mood. Pendant or chandelier fixtures are excellent sources of room lighting while also becoming a staple that draws the eye upward, making the area feel grander.
Colour Blocking
Go crazy with colour! Make a statement in a room with a colour-blocked wall with two complementary shades. This will make it interesting and show your bold personality and fearlessness. A dark and light colour on your wall will add to the space's dynamics, making it seem larger.
The 70/30 Trick
This proportioning technique involves including two different styles in one room. Commit 70% of the room's decor to one style (for example, vintage) and 30% to another (like modern). This makes your home more interesting as you manage to mix different design streams for one cohesive look.
Value of 3
When accessorizing a surface or piece of furniture, like with cushions, candles, personal photos, and so on, you will want to arrange them in groups of three. The look of three accessories will appear balanced, layered, and more appealing to the eye.
Bring the Outside Inside
While decorating your home will help you enjoy staying inside more, you may still have an itch for outdoor life. So why not add some nature to your home interior? Find some decorative, air-purifying houseplants that will trick your mind into thinking you're outdoors.
Settling into a new property that you've made your own is exciting and fulfilling. By personalizing your own space, you'll find yourself feeling more comfortable and at peace.
If you're just beginning your new house search, contact Christine Smith today. With her expertise in the Collingwood real estate market, you'll find the perfect next property to make your own with home design.