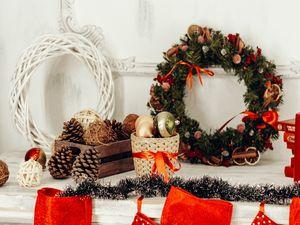 It is often a much-anticipated event to put up the Christmas tree and deck the halls. However, what should you do if your Collingwood home is on the market? Should you avoid decorating for the holidays? Should you create a winter wonderland?
To help you make a strong impression on buyers during this time of year, here are a few expert home staging tips for the holidays.
Don't Go Overboard
Many buyers will expect to see some holiday decorations during showings. However, you do not want to go overboard with these items. Avoid placing so many decorations around your home that it becomes difficult for buyers to see the features and the highlights of the property.
Stick to the Basic Decorations
Rather than set up an extensive Christmas display in your home, stick to just the basic holiday decorations. For example, set up a tree in your living room, place a holiday centerpiece on your kitchen table, and hang a wreath on your front door. Avoid hanging stockings on your mantle that can distract from the beauty of your fireplace, or using large decor items that can make your home appear crowded and cluttered.
Be Mindful of Exterior Decor
If you have a large collection of outdoor decor, it may be best to skip it this year. Inflatable snowmen and giant holiday signs are distracting and can impact your home's curb appeal. Rather, consider adding a few decor items on your front porch or hang a wreath above your garage to give the outside of your home a little holiday cheer.
Make Sure Your Property is Clean
Before you begin to place any decorations around your home, make sure your house is clean. Take the time to deep clean all areas of your house including closets, cupboards, and storage rooms. You will want to focus on all aspects of the home including the windows, light fixtures, baseboards, etc. A few cleaning tips include:
Clean all appliances around your house such as the oven and dishwasher. Buyers are likely to look in these areas.

Clear all counters in both your kitchen and bathroom.

If you have any pets in your home, scrub these areas well. Also, pay attention to any unpleasant smells that may be lingering.

Shampoo your carpet. This will rejuvenate the flooring and can get out unwanted stains.
For more ideas on home improvement, staging a property, buying or selling in Collingwood, and the current real estate market, visit Collingwood real estate agent Christine Smith's blog.