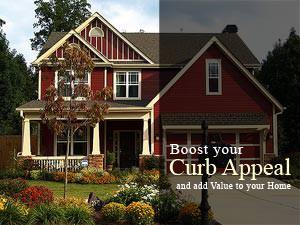 When a seller gets ready to put their home on the Blue Mountains real estate market to sell, there is usually some basic tasks that need to be attended to in order to get their dwelling ready for a showing. Much of the focus tends to be on the interior of the home and can include cleaning and redecorating in order show off the rooms to their greatest strengths. However, sellers should remember that most buyers will make the decision of whether or not to actually proceed to a viewing based on the impression of the exterior of the home.
For this reason, the curb appeal is an important aspect of selling any home and can extend to simple maintenance as well as advanced tasks. This is also important to consider in regards to the fact that buyers will also be paging through a number of different Blue Mountains homes for sale within the area, so curb appeal should also encompass points that distinguish the particular home from others.
Viewing Blue Mountains Homes at First Glance
Many of the basics of achieving curb appeal are common maintenance tasks which make the home appear as an cohesive part of the Blue Mountains. These can include.

Tree care — dead or rotting limbs should be removed from any trees on the property. This will not only give buyers the sense that the home is well cared for, but will also instill a sense of security as to the fact that there are no immediate hazards to the structure of the home.

Exterior home care — this will include replacing any destroyed or damaged accessories to the home and property. Fixing hinges on garden gates, replacing wooden shutters and damaged gutters, as well as tending to lost shingles and roof tiles will all improve the appearance of the home.

Debris removal — getting rid of anything that can be construed as trash or clutter around the property is also a must. This will include leaves, clippings and limbs, as well as garbage or sporting gear that may have accumulated across the yard over the years.

Snow and ice removal — selling a home this time of year can be a nightmare for homebuyers if driveways and sidewalks are covered in snow and ice. Keeping a clear path to your home shows that your home is well cared for and is well maintained.
Many of these points do get attended to on a regular basis, but it is also necessary to go through a more thorough pick up and clean up when getting ready to show your home to a potential buyer.
Blue Mountains Homes for Sale with Curb Appeal
Sellers may also wish to the boost curb appeal in subtle ways that generate an inviting atmosphere for their Blue Mountains homes. This can also help to highlight unique features that are visible from the outside.
This time of year brings plenty of buyers looking for real estate in the Blue Mountains area. If you want your fair share of homebuyers coming through your front door this season, then doing these small chores on a regular base will help.