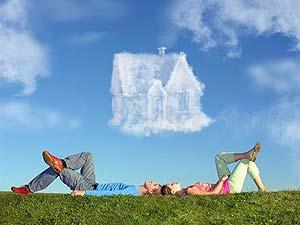 With so many choices and variables available in Wasaga Beach, how do you find the perfect fit? Before you start riding in the car with Christine, it's a good idea to narrow down the playing field by looking at what would fit you best. Here's where to look:
Look Inside
If your dining suite is one that you cherish, use often and happens to be huge, then add "large dining room" to your Must Have list. Carry this logic through your space and you should come to some conclusions about what is essential in a new home. While you're at it, take a look at your personal style; it can also give you valuable clues as to what you really want. For example, if you're surrounded by lace, chintz and silver you might be more drawn to a Victorian style home. If your style tends more to clean lines and a modern look, then loft-like spaces or open concept homes will probably hold more appeal.
Look Outside
What is out in the world that catches your attention? Is it a brick exterior or cedar shingles that make a house feel like home to you? Consider the different styles of houses that Wasaga Beach has to offer, and see if there are any common elements among them. Another place to look is at the style and size of any new items you plan to acquire. Taking an outside inventory of what appeals to you can help narrow down your search.
Look at Your Requirements
It's helpful to take a head count and look at what features are vital to each member of your family. How many of you are going to live there, and are any more expected shortly? How many of you need home offices or parking spaces or playgrounds or workshops? This will give you an idea of the size and number of rooms you require, as well as clues to Wasaga Beach Neighbourhoods or types of housing. Make sure you include pets and consider whats best for them. This may move a fenced yard to the top of your list.
Taking stock of any special needs or limitations you have will also help you clarify your choices. If climbing stairs is not an option, a single storey dwelling is likely to be the best fit. Anyone who has sworn off snow shoveling or leaf raking (or simply doesn't have the time for it) may find that a condominium set-up, where someone else does the big chores, is what they're looking for. If you work a night shift, and need to sleep during the day, make sure your bedroom window isn't facing the rising sun (or in close proximity to a schoolyard or playground). Finally, if you're not the handyman type and don't have a large budget or the patience for renovations, you may want to skip past fixer-uppers, no matter how tempting a deal they are.
Look at Your Lifestyle
Look at your lifestyle to gain insight to your best locations. If you're planning to stay awhile, and are also planning on children (or already have them), then you'll want to find a Wasaga Beach Neighbourhood that's kid friendly and has great schools. Another consideration should be your work commute. Will your new location support you in getting to work on time? Make sure it has what you need, whether that's access to public transportation or parking spots. Does your usual routine depend on being close to shops or nightlife, or do you prefer quieter surroundings?
Your lifestyle can also determine the best layout for your home. Look at how you spend your time, how you relax and interact. You may find that the dining room is rarely used, while the family room is definitely the place to be. Similarly, look at how you entertain. Don't forget that Wasaga Beach is a popular Summertime destination for many Ontario friends. Do you have overnight guests often enough that a guest room is a necessity? If your idea of a fun evening is cooking with your guests, then an open kitchen with lots of gallery seating may top your list. People who do most of their entertaining and socializing in public spaces may find a galley kitchen with an eating bar better suited to their needs.
All in all, if you take the time to consider what's really important to you, you should be able to define the type, size, attributes and location of a Wasaga Beach house that you want to look at. The results should be a lot less time looking, and a better chance of finding the house that is the right fit for you. Happy Hunting!