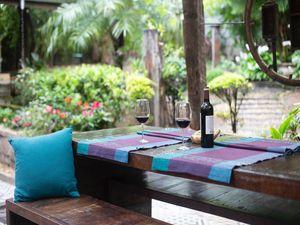 Whether you just recently purchased a new home in Collingwood or you are trying to enhance the curb appeal of your current one to impress potential buyers, one area that you don't want to overlook is your outdoor space. Creating a gorgeous patio area that is both functional and gorgeous will capture the eye of many buyers, and help your home stand out from the competition. To truly create a gorgeous patio area, here are several things you can do.
1. Create a Gathering Area
When you walk into your outdoor living space, you want a place where you and all of your guests are immediately drawn toward. You want an outdoor space where you can relax or host a large summer barbecue. Depending on your house and the size of your property, you may consider building a large wooden deck or even just laying down a large cement pad. By placing comfortable patio furniture and even a fire table, it will become the place where everyone will want to be.
2. Add Lots of Colour
You want an area that is eye-catching and stunning and where you can de-stress after a long, busy day. To make this happen, plant a variety of flowers and vegetation throughout your yard. You may consider placing large planters throughout your outdoor space to grow flowers with lots of colours such as pansies, marigolds, and petunias. You may also want to fill your flower beds with large flowers and ornamental grasses. If you lack a green thumb, there are many plants that are low maintenance but are still gorgeous. These flowers include the daylily, geraniums, and sunflowers.
3. Stay on Top of Your Landscaping
If you want your patio area to look its best, there will be some work involved. You will want to take care of your yard by regularly performing basic landscaping tasks. This can include mowing the lawn, weeding the flower beds, and trimming trees. By performing these tasks regularly, you will create a space that looks well maintained. These tasks will not seem so overwhelming each time you tackle them. If you do not have the time, you may consider hiring a professional landscaping service to perform the work for you.
If you are considering selling your Collingwood home, contact real estate agent Christine Smith today. She can help you impress potential buyers and receive a deal that makes you proud.