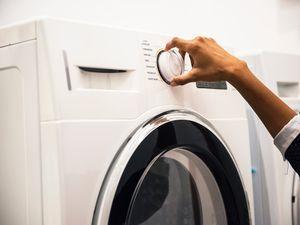 For many homes, the laundry room is simply an area in the house where a washer and dryer is placed. It may be in the garage, a corner of the basement, or in a dark and ugly room. When you take the time to create the ultimate the laundry room, your home will not only stand out from others when placed on the real estate market; you will begin to, once again, enjoy this dreaded chore. Here are several ways you can create the laundry room of your dreams.
Include Ample Storage
One way to create a functional and design-friendly laundry room is to include ample storage. If space allows, install several cabinets where you can place essentials such as extra linens, laundry soap, etc. If your laundry room is on the smaller size, consider storage options such as open shelving on the walls, a corner shelf, etc.
Brighten it Up
While you may not enter the laundry room every day, it will still be a room that you frequent often. This means that you need to create a space that you enjoy going into — that you certainly don't dread. One way to do this is to brighten up this area. Include lots of colours with light paint options, colourful curtains, etc. If there is a window located in the room, choose light window treatments that are easy to open and will let in ample light.
Build a Folding Area
For many individuals, one of the worst parts of the job is folding all of the clothes. But, if you have a dedicated folding area, this chore will become much more enjoyable. If you have a large laundry room, consider a built-in table or if you have a front-load washing machine and dryer, consider building one above these appliances.
Install a Hanging Rod
You likely have many clothing items that cannot be placed in the dryer and require air drying. Rather than cover your couch in these clothing items, install a hanging rack and immediately hang your clothes. This will keep these clothing items organized and wrinkle-free, and you won't have them cluttering your home.
If you are ready to place your Collingwood home on the market, contact real estate agent Christine Smith today. She can help you market and sell your home and provide you with an incredible home-selling experience.