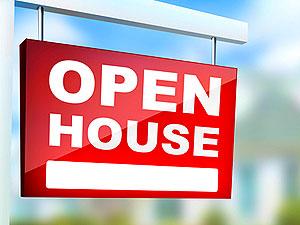 When selling your home there is only one thing you have on your mind — get a Buyer for your house. If you have decided to work with a local REALTOR® from the Southern Georgian Bay area, at some point in time the discussion will turn to whether or not you should hold an Open House to draw in more potential Buyers.
Rather than waiting for your Collingwood REALTOR® to call to see if you would like to do an Open House in a couple of weeks, think proactive by having your home ready on the first day it gets listed on the real estate market.
Here are a few Open House Tips to help get your Collingwood home ready for that big day.
Clean your house — you are already keeping your home clean and presentable at all times for showings so this clean should not be too difficult. You want to present the potential Buyers with a beautiful clean place so they can look at your space and not be distracted by dirt or clutter.

Prepare for Curb Appeal — first impressions are everything. Some Buyers will literally not get out of their cars if they do not like the look of a house. Take a look at the exterior of your house with fresh eyes and try to see your home for the first time. Make sure your grass is cut, your gardens are neat and weed-free and the windows and siding or brick are clean.

Protect your house — remove personal photos, kid's art, bathroom toiletries, addressed mail, addressed magazines from around the house. Hide any valuables like jewelry boxes, expensive antiques, or other items of value to protect you from any opportunistic criminals during the Open House.

Concentrate on the Kitchen — the kitchen is the heart of the home and it is a huge factor on whether or not your home will sell. Clean the kitchen so it is spotless.

Create pleasant aromas — nothing screams "home" like fresh baked cookies. Consider baking a quick batch of cookies the morning before the open house to give your home that lovely smell. Alternatively, there are many fragrance sprays on the market that can help make your home smell good. Just do not go overboard.

Pack up your pets — take your pets with you when you leave for an Open House (your indoor kitty should go with you too) – no matter how nice your pets are, a successful open house could have many people coming and going and your pets may escape. They will also be a distraction to potential Buyers (especially if they are really cute).
Let your agent do their job — an open house will typically be on for two hours. Make a plan to take your family and pets away from the house during this time. Your indoor cat may not be super happy being crated for a few hours, but it is worth the time invested. This time allows a few potential Buyers to have the time to browse and ask the agent questions. Your REALTOR® should know your house better than any other Collingwood Real Estate Agent so this time is valuable!
A successful Open House is never a guarantee. As your REALTOR® Christine Smith will advertise, promote and tell the world about it, but there are never any guarantees that the right Buyer will come to the Open House. On the other hand, your Buyer may be driving by that day, stop in for a viewing and put the offer in the next day. Always be prepared. It only takes one Buyer to buy your house!