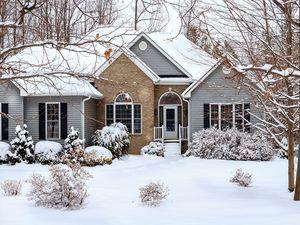 Winter is a wonderful time of year but the snow, ice, and lack of colour outside can impact your home's curb appeal. If you are hoping to sell your home during these months, it can be hard to spruce up the exterior of your house so it impresses potential buyers. Luckily, there are a few things you can do that will improve your home's curb appeal and help buyers fall in love with your property.
Keep All Walkways Clear
One of the best things you can do is to keep all walkways, paths, and driveways clear of snow and ice. This will make it easy for buyers to look around the exterior of your home and it will reduce the risk of falls and injuries.
Brighten Up Your Home
A bright and well-lit home is not only going to improve the curb appeal of your property, but it is a highly sought after security feature as well. If the exterior lights around your home are old, consider replacing them for brighter, more energy-efficient models. It may also be in your best interest to install some exterior lights in darker areas around your home such as on the side of your house.
Clean Up Your Yard
Do you still have bikes and basketballs sitting on the side of your home? Have you brought in the old planters from your main entryways? By keeping this clutter outside of your home, it can become an instant eyesore. Take just a few minutes to put away all of these extra items. Place them in a shed, garage, or take them to a local storage unit.
Focus on Your Front Porch
Your front entryway is vital. If this area of your home is in excellent condition and well cared for, it will instantly impress buyers and they will be anxious to see the rest of your home. To spruce up your front porch, remove all dirt, dust, and debris. Hang a beautiful wreath on the door and lay down a new welcome mat. If your front door is in poor condition, you may consider replacing it. If it simply needs a little TLC, consider painting it or installing new hardware.
Just because it is winter, it doesn't mean you can forget about the exterior of your home when preparing your property to sell. If you have questions regarding selling your house and what you must do to be ready, reach out to Collingwood real estate agent Christine Smith today.