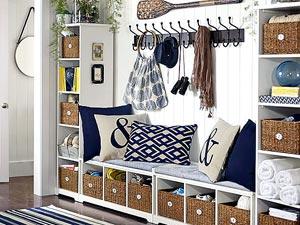 You do not always have to break the bank in order to make your home look luxurious and expensive before putting it on the Collingwood real estate market. There are actually quite a few home décor ideas and tips that can help you save money, while making your home look pretty pricey! It is possible to make your home look high end no matter what type of budget you may be on. The key to having a home that looks more high class is taking the time to make decorating a priority and putting every home décor item in just the right place.
Here are a few home staging ideas to make your home look higher end.
Organizing your Home
The trick to having a home that looks luxurious is getting rid of the clutter. Homes that are filled with items that don't belong normally look less expensive and are not considered to be high end. This means that having tons of objects and items lying around your home will just bring down its value. Everything in your home should be tossed or stored. This means that all miscellaneous items should be categorized and then put in a specific place or in storage. It is always best to start de-cluttering your home by getting rid of items that don't match with your current style. Your Grandma's vase may have been passed down, but if it does not fit with your current design theme, you may need to store it somewhere out of view.
Cleaning your Home
Not only are having stylish décor pieces important to adding value to your home, but the overall condition of your home is also key. A home that is clean and sparkling just tends to look more luxurious than a home that is dingy and dirty. This means that you need to make cleaning a real priority if you want your home to look high end to get top dollar. Before you look to sell your home, you need to give it a real deep cleaning. This means going through and cleaning all the carpets, but also wiping the floorboards and giving certain areas of your home cleaning attention they might not be used to. A clean home is one that looks so much more visually appealing. When the décor items in your home are sparkling, your home just looks that much more expensive.
Lighting your Home
Another small design secret that can really make a lot of difference is lighting. Adding or rearranging lights can really help to switch up style and add a bit of elegance to your home. Lighting has the ability to be used in order to define spaces. You can make a room of any size feel more grand and spacious by having just the right type of lighting installed. Using more than one type of lighting is a great way to add to the space. This might include having recessed lights installed in addition to having floor lamps situated within the right space. The style possibilities really are endless.
Additional Home Design Secrets
There are many technics and hidden little secrets that home stagers will use to make a home look expensive and help them sell for top dollar on the Collingwood real estate market; by contacting Christine at (705) 888-0201 you can learn more on what she can do to transform your house before putting it up for sale in Collingwood.