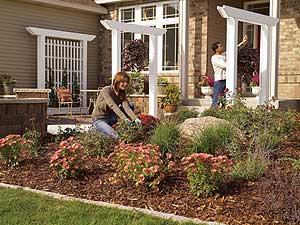 If you want your home to sell quickly and to make an impression on buyers, you must make your property appealing. There are several tasks you need to complete prior to placing your house on the market that will make potential buyers anxious to step inside.
Here are just a few ideas to help you make your property more appealing to potential buyers.
Clean the Space
Potential buyers don't want to walk into a cluttered, disgusting mess. If you want to make your home appealing to potential buyers, you must show that the home has been well cared for and it is in excellent condition. A few ways you can do this include:
Declutter all areas of the home including the closets, cupboards, the yard, etc.

Deep clean high-trafficked areas such as bathrooms and the kitchen. Make sure all countertops are free from clutter and cleaned well.

Wipe down all walls, doors, windows, etc.

Make the beds, clean off dresser surfaces, etc.

Pick up all floors and mop, vacuum, etc.
Walk Around Like a Buyer
Cleaning your property is not enough to make your house stand out. You may need to complete several projects that will improve not only the cosmetic appearance of your home but can increase its value as well. One way to find these projects is to walk around your property like a buyer. Critique all areas of your home and identify those areas where upgrades and repairs should be completed.
Keep in mind that you aren't only looking for cosmetic issues to update but check out areas such as your HVAC system, insulation, windows, the roof, kitchen appliances, etc.
Price Your Home Well
If you want to appeal to potential buyers, you must begin with the home's listing price. When you price the home too high, potential buyers are less likely to rush to see your home and you may run into issues with the appraisal. If you price your property too low, buyers may be wary that there is something wrong with your home. They may also provide a low offer, causing you to miss out on the money you deserve for the property.
Work with a Qualified Real Estate Agent
Reaching out to potential buyers and making them excited and anxious to see your property is not that easy. However, when you work with a qualified real estate agent, he or she will take care of this task for you. These experts have the training, experience, knowledge, and resources to help you every step of the way. They will make sure that potential buyers find your house and are familiar with all the features and characteristics that it has to offer.
If you are ready to place your Collingwood home on the market, contact real estate agent Christine Smith. She can help you throughout every step of the process and she has the training and knowledge to appeal to potential buyers in the area.