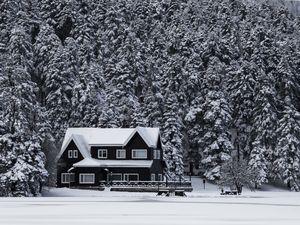 While the fall season means pumpkins and large leaf piles, it also means a long to-do list of home maintenance tasks that will prepare your property for the upcoming cold weather. The winter can wreak havoc on your house if you are not fully prepared, so here are several things you should do to prepare your residence for winter.
Clear Out the Gutters
During the summer and fall months, your gutters can quickly become clogged with debris, twigs, dead leaves, etc. In the winter, you want your gutters cleared as they can freeze and cause major blockages — possibly requiring all new gutters in the springtime. A little bonus tip: add clearing gutters to your to-do list regularly to prevent spending all day doing this one task.
Care for Your Trees
When the first major snowfall strikes, tree branches can fall down and can cause damage to anything beneath such as a fence, a shed roof, etc. Take the time to trim all large trees in your yard and if you do not have the proper equipment, lack the knowledge, or don't have the ability, hire professionals to assist.
Don't Forget About your Sprinkler System
A sprinkler system is a convenient feature for any home but improper maintenance can cost you hundreds of dollars and many large headaches. Before the temperatures drop, blow out your sprinkler system and remove any water sitting in the pipes. This will prevent many broken pipes that will need replacing in the spring. Additionally, don't forget about any other water features that may need to be winterized such as ponds, hoses, fountains, etc.
Inspect All the Vents in the Home
Go through each room in your home and locate all vents. Do you have furniture on top of the vents that could reduce the heat in that room? If so, you may consider moving furniture items. Additionally, if there are rooms in your home that are rarely used such as guest rooms, a storage room, etc., consider closing the vents that are located in these areas as well. This will cut down your energy usage and you will have much happier monthly utility bills.
Check Home for Drafts
Unfortunately, there are many areas in your home where drafts can occur and you can lose a significant amount of heat. Before the weather becomes too cold, check many of these common areas to maintain your heat. A few common areas include:
Doors

Windows

Mail chutes

Piping

Vents
By preparing your home for the cold weather, you will have a much safer, warmer, and less stressful winter in Collingwood.