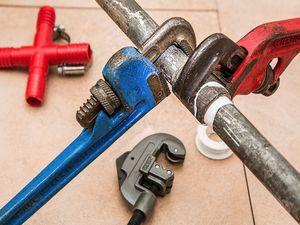 While a home inspection is not a mandatory step in the real estate transaction, if one is being conducted on your home, it is best to be prepared. You do not want small details to deter potential buyers, delay a sale, or cause you to receive a lower offer. Plus, by completing the work ahead of time, you can choose the right people for the job, ensure you use the proper materials, and more.
While the items you need to repair will vary from home to home, there are several common areas where problems are found and updates are needed. Here are several of them.
Plumbing
If you have noticed any plumbing issues throughout your home, you will want to get these issues fixed immediately. Look through your home and make note of any potential leaks and make sure there are no signs of mold or mildew growth. Check all of your water fixtures as well to make sure there is adequate water flow. If plumbing issues are found, it may be best to hire a professional to ensure these issues are handled well.
HVAC System
Replacing an HVAC system is an expense you do not want to make. By performing maintenance on the system, you can often prevent this from happening. A few items to look for and update if necessary includes:
Ensure the unit is free from rust

Look for cracks in the ductwork or the seams

Make sure all air filters are clean and in excellent condition
The Roof
The roof can cause many headaches. Before you place your property on the market, it is wise to have a roof inspection by a professional roofer. You will want to have everything carefully evaluated from the shingles to your gutters and vents. This expert can help you spot any issues, suggest repairs, and provide an estimate of the lifespan left in your roof. If a full roof replacement is needed, talk with your real estate agent to work this major expense into the deal with the buyers.
Windows
Inspectors will look closely at the windows throughout your home. They will check to ensure the windows open and close well, all seals are in excellent condition, and there is no broken glass. If you have old, aluminum windows throughout your home, now is an excellent time to upgrade the glass panes. This will not only make the house inspection run more smoothly but it will increase your home's value as well.
For more information on the home-buying and selling experience, the current real estate market, home improvement ideas, and Collingwood activities, visit real estate agent Christine Smith's blog.