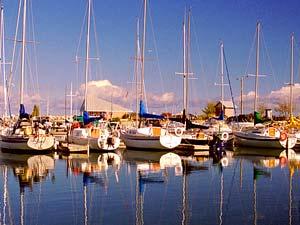 Located to the north of Collingwood Ontario, the Thornbury neighbourhood offers residents a combination of lakeside living and natural wonder. This makes real estate in Thornbury a coveted accommodation for the blend of pastoral and waterfront views. Whether homes are on Georgian Bay or more inland, this neighbourhood has some of the greatest curb appeal for potential buyers.
Homes for Sale in the Thornbury neighbourhood have a great aesthetic and the private lots sport a combination of manicured landscaping in the midst of natural beauty. This can make exteriors one of the more important points to focus on when showing a home. Curbside appeal is a must in the pedestrian friendly neighbourhood.
One of the unique features of this community is that although preserve lands and natural surroundings play a part in the attractiveness of the area as a whole, the private lots are well kept and precise in their presentations. This offers cohesiveness to different streets within the community, but also shows the pride that the town has for its breathtaking environment and traditional to modern architecture.
As a whole, Thornbury presents a comforting front of privacy as well as neighbourly good will. While a well kept exterior of a structure does offer a certain amount of curb appeal, the state of the property is also taken into consideration by buyers. Much of the image of Thornbury is built around cultivated wilderness, and when this is reflected in the property, it helps to draw in potential buyers. The surrounding area harvest everything from grapes for winemaking to apples.
Many residents of Thornbury do take advantage of outdoor recreations, but it should be noted that excess gear in the driveway or on the grounds can create a cluttered look. If there is shed space, it can be important to utilize this for storage. While a recreational vehicle in the driveway can be considered a part of the Thornbury lifestyle, it can also block the first impression of a home. Further, boats should be properly dry-docked and excess vehicles should also be parked in adjunct spaces in order to give a full view of the property. The harbour also has land available for the storage of boats.
Although many of these considerations do not impact residents, they can make an impression on people who are considering to purchase real estate in Thornbury. Displaying the beauty of the home and the property may also include limiting personal lifestyle displays, in order to maximize the curbside appeal.