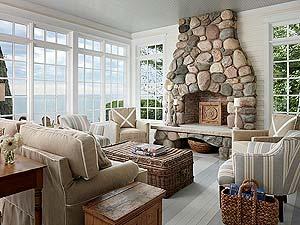 In communities where part of the draw for new buyers comes from the location and the stunning views afforded by the properties, it can be essential for sellers to truly maximize the interior features of the home as well. The neighbourhood of Wasaga Beach Ontario is known for both its proximity to the lakeshore, and for the quaint architectural styling of the homes. This means that a well-staged interior can generate the real interest that is needed to move a specific beach front property.
Consider the Overall Look
While many Wasaga Beach homes that are for sale do sport modern amenities, homeowners should consider the actual design of the house in order to create a cohesive feel through the staging. Colonial architecture is very strong in this area, and sellers with these types of homes will want to play up the nostalgic feel that these interiors have. Keep the floor plans open by rearranging furniture and utilizing antiques for decor can all help to enhance the personality that the home gives off. This type of staging will also stay in keeping with the exterior expression of the home.
Beach style homes for sale in Wasaga Beach are also prevalent throughout, and these can give sellers another way to look at interior staging which stays in keeping with the full design. These types of homes tend to have a focus on the natural lighting and window embellishments, so minimal window treatments and decorations that help to preserve the feeling of space can be appropriate here.
Think about Practicality
Different architectural designs will also have a variety of layouts for the rooms. Colonials do tend to favor more but slightly smaller rooms that may be used as storage. While it can be appropriate with good staging to make sure that these areas are organized and clean, it can also be helpful to repurpose spaces, as this gives potential buyers further inspiration for usage. Beach homes within Wasaga often have open floor plans and lofts, and in these homes, sellers may want to show that privacy can still be achieved even with the general access to the space.
Another point that sellers will also want to bear in mind is the fact that tasteful decoration is not the same as over decoration. Interiors that are too bold in the way they are arranged may not appeal to everyone, so leaning on the side of caution is more likely to play up the highlights of the home, without overwhelming prospective buyers.