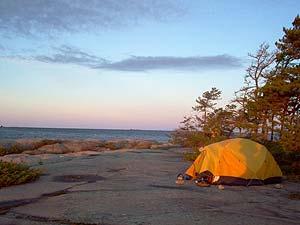 The Georgian Bay area has been a vacation choice for millions of outdoor-loving travelers for years. There is no end to the activities that you can take part in while vacationing here. If you are not into having loads of nonstop fun and adventure, then stop right there because this is NOT the place for you. Visitors to Collingwood, Wasaga Beach, Meaford and Thornbury can especially enjoy the many parks and camping sites that dot the landscape. Nature lovers galore come here for a relaxing weekend or even a few weeks during the summer.
Camping is not for the faint of heart. It does require some knowledge and a little bit of work to set up a campsite. Luckily, the area provides several camping grounds that are outfitted with many modern amenities-like bathrooms with flushing toilets. Although you may be laughing right now, when you need one you won't be complaining. Not only do the camping facilities offer modern plumbing, but you will also find some areas that have modern kitchen facilities. These are convenient for campers that don't want to rough-it entirely on their own.
The Georgian Bay Islands National Park offers an area for group camping. It is here that you make reservations for a group of people-just like the name implies. Many organized clubs reserve spots for weekend retreats. This is a great idea, as well, if you have several families that you normally vacation with. You will surely make a lifetime of memories in just a few days if you decide to camp here.