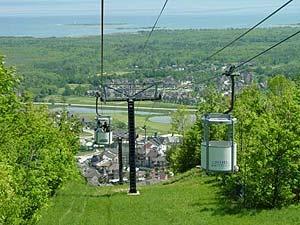 Have you ever wanted to take a vacation somewhere in the mountains, but you just don't know where to begin? Well, have you ever heard of The Blue Mountains in Ontario? This area has become a very popular tourist destination in recent years and shows no signs of slowing down.
Any time of the year, during any season, people travel to the Blue Mountains area to engage in adventurous outdoor activities. The summer season is very appealing because you don't have to deal with layers upon layers of warm clothing like you would in the winter months.
Summer vacation in the Blue Mountains offers a variety of activities including: hiking, fishing, sailing, kite surfing, mountain biking, road biking (this is where the world famous Centurion Bike race takes place each year). The area also offers endless trails including the famous Bruce Trail and the Georgian Trail.Did this peak your interest? Local municipalities spend a lot of time and money maintaining the vast, luscious landscape of the Blue Mountains. Residents living in the towns that surround the mountains take great pride in the environment and all pitch in to keep their home a beautiful place to live, work, and play.
Furthermore, these same people simply enjoy sharing their magnificent surroundings with tourists. In fact, many residents were once tourists themselves. They simply fell in love with the lifestyle afforded to them in the mountains and chose to stay for good. Active, healthy, happy people find themselves coming back year after year. Be careful, the mountain bug may get you, too!