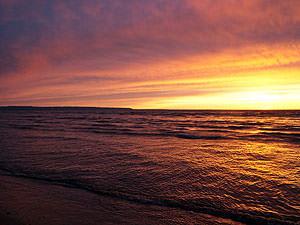 Summer is the prime time to sell homes and real estate in Wasaga Beach and if you haven't done it already you'll need to spruce up your landscaping of your home to attract buyers. In this competitive market home buyers are expecting your yard and garden to look like a paradise in bloom. Here are some tips for maximizing your home's landscaping potential so you can get the best offers.
Have some space set up in your yard up for entertaining to set the stage for your buyers. It could be as simple as a table and a couple of chairs draped with a cloth made of a light, airy cotton or linen fabric. Top it off with a few potted plants or flowers surrounding them to add some appealing colour.
Having a bench placed in your garden or deck area is a nice decorative touch and is an inviting element. It can help to highlight a particularly nice area that you want to showcase.
Water features such as fountains are wonderful items to add to your garden area. The sound of the trickling water helps to drown out neighbourhood noises and also provides a relaxing environment.
Regularly water your lawn as well as any plants and foliage. You want to make sure all elements of your landscaping are always fresh. Also the water helps to bring down the temperature around the property.
Red and yellow flowers will draw potential buyer's attention, so make sure to have some planted in front of the house if space permits. Also they can be used to punctuate spaces where the foliage is completely green as an accent. If you reside in a warm climate white flowers can be added to give a refreshing and cooling effect.
If you have some space that's unused considering adding some leafy foliage or hanging ferns to give the area a more tropical, inviting feel.
If you have a deck overlooking the beautiful Georgian Bay sunsets it should be highlighted as this is a great outdoor feature that will add the most value to your Wasaga Beach home. The trend in outdoor rooms dictates that your deck should be as comfortable and appealing as the other rooms in your home. Maintenance is important, so look for cracks that can be a sign of damage. Also check to make sure there are no nail heads or screws protruding from the deck's surface. These should be removed and replaced with galvanized deck screws. Once you've made sure your deck is structurally sound give it a power wash or new coat of stain. Next you can stage the area with some potted trees and brightly colored flowers. Maybe even a canvas gazebo to provide shade.Make sure all the outdoor space in your deck or yard has been updated. Even the smallest of areas can be improved with a little organizing or clean up.For more tips on selling your home and cottage, contact a Wasaga Beach Real Estate and Georgian specialist before putting your property on the market.