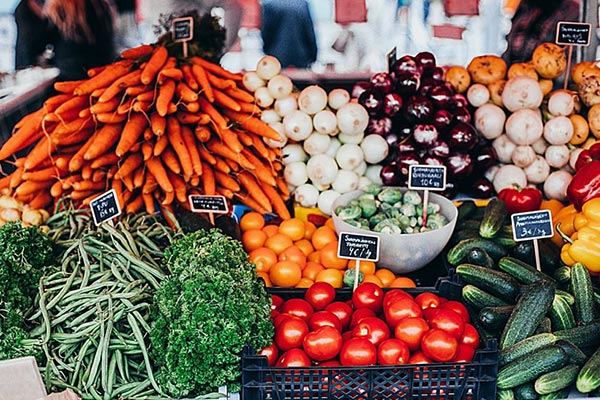 Collingwood Downtown Farmers' Market
The Collingwood Downtown Business Improvement Area (BIA) is working with the Town of Collingwood to ensure a safe experience for market vendors and goers as it announced the return of the Collingwood Downtown Farmers' Market this past month.
"Your Outdoor Grocery Store" will still occur at the corner of Second and Pine Street but may look a bit different this time around. Now in its 18th anniversary season, the market continues to feature local legends and welcomes new additions, including craft breweries and distillers, Northwinds Brewery, and The Collingwood Brewery.
The Collingwood Downtown Farmers' Market has implemented measures to respect physical distancing with a one-way entrance along Pine Street to control traffic inflow and arrow markers to guide you through your way to your favourite vendors. Remember your mask when planning your Saturday outing, as it is required to be worn at all times within the market area. And no need to crowd; the market will run from 8 AM to 1 PM every Saturday, Victoria Day through Thanksgiving — but pets are not permitted, so you may want to leave your dog at home.
More To Explore
Make a day of it and visit the beautiful murals illustrating the town's history, past and present. A walk to the Eddie Bush Arena will take you back in time with work by Bill Hartman in a scene that portrays the Tionontati overlooking what is now Collingwood. While you're there, explore imagery by Janie Cooper Wilson, Wilhelmina Wildman, Gordon Kemp, and Shirley Farmer. These murals encompass the city's developmental roots from early fugitive settlers to the commercial fishing industry and today's recreational uses of the land.
Be sure to check out the three-dimensional ceramics by Richard Gill over at the CIBC building and continue to move through time with John Hood's mural, located on the corner of Hurontario and Second Street.
Go Digital
Can't make it to the market? There are still plenty of ways to support your community and shop local. With curbside pick-up, takeout, and delivery options, you can continue to enjoy all that downtown has to offer. Be sure to check out Collingwood Commons for even more ways to shop Collingwood online and participate in virtual events.