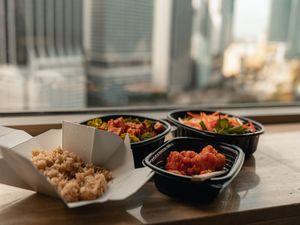 As COVID-19 continues to spread, you may be seeking shelter inside your home. Luckily, this doesn't mean that you can't enjoy some of your favourite dishes from local restaurants. In fact, several local food establishments are offering delivery and curbside services to Collingwood residents.
Here are several takeout options in Collingwood that will not only satisfy your taste buds but will help you support local businesses as well.
The Huron Club
No matter if you are in the mood for delicious wings, a sandwich or even your favourite pasta, you can enjoy it from The Huron Club. A takeout menu from The Huron Club is available that is filled with many favourite dishes. Plus, you can not only enjoy delicious food but to-go beer and wine as well.
Takeout is available from The Huron Club on Tuesdays through Sundays from 4 p.m. to 9 p.m. Please call The Huron Club at 705-293-6677 to place your order.
Heavenly Cafe
If you are in the mood for savoring sandwiches, soup, or even a pastry, Heavenly Cafe should be your first call. This cafe offers breakfast and lunch items, as well as many coffee options. You can view the Heavenly Cafe's takeout menu online, which offers numerous food items for both breakfast and lunch.
Pickup is available on Thursdays to Saturdays from 11:30 a.m. to 4 p.m. You can call 705-444-2005 or email [email protected] to place your order.
The Smoke
The Smoke offers mouth-watering BBQ dishes that your entire family will love. Before you call, take a look through this establishment's menu that ranges from bacon slices to chicken wings. Visit their Facebook page to browse their latest menu options.
To order a meal from The Smoke, email [email protected] You will receive an invoice with further instructions to receive your meal. Pickups are by appointment only and delivery is available in Collingwood for $5 and limited areas of the Blue Mountain for $7.
Fig & Feta
Add a little variety to your meals with some delicious Greek food. No matter if it is pita bread, soup, hummus, or more, Fig & Feta can keep you feeling full and satisfied. Similar to other establishments in the area, you will want to browse the takeout menu on the restaurant's website.
Fig & Feta is open from 11 a.m. to 6 p.m. and delivery is offered to the Collingwood and Blue Mountain areas. Curbside pickup is available to avoid large customer groups congregating inside the store.