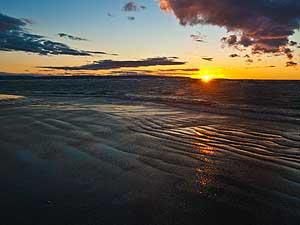 We are so fortunate to have the worlds largest fresh water beaches right on our doorstep known as Wasaga Beach. Year after year, vacationers from the area and around the world have been returning to one of Ontario's favourite holiday destinations, the Town of Wasaga Beach. Offering adventure and excitement around every corner, Wasaga Beach has something for everyone. No doubt that's why it's become one of Ontario's fastest growing communities. Visitors come for a day, a weekend or a week, fall in love with the "Beach" and decide to make it their permanent home. Whether you are vacationing or have made Wasaga Beach your new home — Welcome!
With eight different beaches and recreation areas spread out along the world's longest fresh water beach – 14 kilometres of soft white sand – Wasaga Beach Provincial Park attracts visitors of all ages looking for fun in the sun. If sun tanning or livelier activity is your thing, then the recreational areas of Beaches 1 & 2 are the place to be. These key beaches host such events as lifeguard championships, Kite-fest and Soap Box Derbies.
Families and those looking for a quieter place to relax or play in the shallow, sandy waters, will enjoy the areas to the west or east of the two main beaches. New Wasaga, Allenwood, and Beaches 3 through 6 feature the same soft white sand of Beaches 1 & 2, in a quieter setting, with more family amenities and playgrounds.
For those who prefer to stay on the water, hop on a watercraft and sail, wind surf, jet-ski, or motor out onto Nottawasaga Bay. Given the Town's location on beautiful Georgian Bay, it is no wonder sport fishing is so popular. Or, if you prefer hitting the links, a round at one of Wasaga's 3 golf courses is sure to challenge and please. Want to spend some time indoors, or just getting hungry? Try a little shopping, or satisfy your appetite at one of our hot spots, cafes, or family restaurants.
While you're near Beaches 1 or 2, don't forget to explore Nancy Island Historic Site. On display is the preserved schooner, "The Nancy", from the War of 1812. The Museum offers a unique and fascinating cultural experience that's an important part of our historic past. With all this and more, including plenty of festivals and special events, it's not surprising the community is growing so quickly and visitors return yearly.