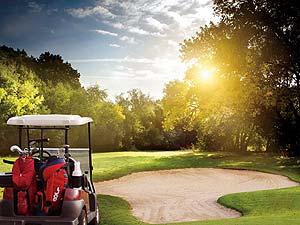 The weather forecast for Collingwood, Ontario this summer is calling for the hottest temperature culminating in July and August. That being said, this seems to be the perfect vacation destination these days and many Canadians would agree. Collingwood has come a long way baby! In recent years, the area has simply exploded with a variety of retail establishments, outdoor adventure activities for the whole family, and romantic getaways for you and your sweetie.
The Blue Mountains turn into a playground during the summer. When the snow clears, the resorts prepare their staff to provide five star services to their guests. You can spend a day on the mountain bike trails and return to the resort for an evening swim and cocktails. The kids will be entertained with popcorn and a movie while lounging in their pajamas. The warm, breezy summer air is incredibly romantic. Your family will create a host of new memories to last until they return the following summer.
Are you an avid golfer? Then Collingwood's surrounding golf resorts will astound you with their impeccable course and staff just waiting to serve you. While you are on the course, your wife can enjoy a spa day. Meet up at dusk in the Marina for a sunset cruise complete with dinner and drinks. Summertime in Collingwood is a dream come true!